Drinking Pu-erh or Oolong Tea with Milk
[2014.09.06] Posted By Akira Hojo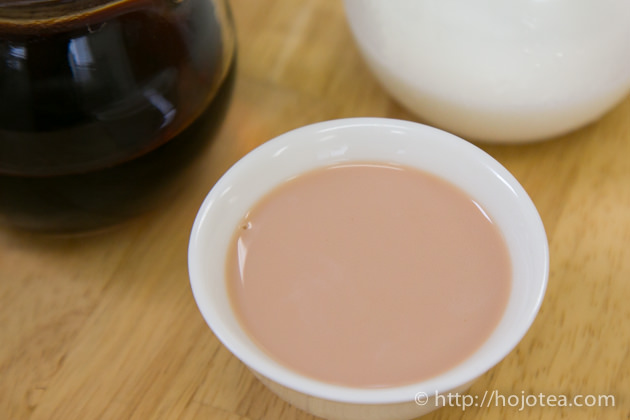 Sometimes serious tea connoisseur does not like the concept of drinking tea with milk. However, there is no loss in you knowing that some teas go very well with milk. You may have a new discovery in taste.
Milk increases the body of tea
The idea of adding milk in tea is not only giving the milky flavour, but also to increase the body of tea. The milk is very rich in calcium and it will drastically increases the body. Thanks to the body, the flavour becomes richer and it widely spreads on our palate. It could be the reason why the tea with milk is being loved by many people.
Please refer to the following article for the effect of milk to the taste of tea.
https://hojotea.com/en/posts-65/
Black tea is not the only tea that goes well with milk
In fact, not only black tea, there are many other teas that goes well with milk. Generally, as far as I've tasted, the deeply fermented or heavily baked tea gives a good result with milk.
Deep Fired Oolong with milk
When I was in Taiwan, I heard that deep fired oolong can get along with milk very well. So I tried it as soon as I came back from Taiwan.
It is essential to choose the tea that is deeply fired. Based on my experience, the lightly fired oolong does not get along with milk. In our tea line-ups, I suggest Deep Fried Da Yu Lin, Deep Fired Deep Fermented Dong Ding Oolong or Taiwan Tie Guan Yin (Mu Zha Tie Guan Yin), Deep Fired Tie Guan Yin, and Anxi Rougui. In near future, I am planning to release Deep Fired Formosa oolong and Deep Fired Li Shan Cha. These teas also will be a good match with milk.
Hojicha with Milk
Some people mix Hoji Cha (the roasted Japanese green tea) with milk too. The Hoji Cha with milk gives the baked flavor that reminds me of the camp fire. You can also consider Iced Hojicha with milk.
Pu-erh Ripe Tea with Milk
I believe very less number of people has ever tried ripe pu-erh tea with milk. If you select the ripe pu-erh tea with the right quality, the pu-erh tea with milk turns out to be an excellent quality. I was very impressed by the colour when I blended milk in ripe pu-erh tea. It looks exactly like a chocolate drink. I thought "Wow! It looks so delicious!" It is very important to select the ripe pu-erh tea from the natural farming tree. The natural farming tea gives an extraordinarily strong aftertaste. The ripe pu-erh with milk gives a unique dry fruity flavour. Due to the high mineral content in those natural farming tea, the tea tastes very smooth and you may feel the lingering sweetish taste on your palate. I tried Wu Liang Shan ripe pu-erh and Gong Ding Jin Hao with milk. I felt it was completely a new drink. These teas originally have very strong aftertaste. When tea is added with milk, thanks to the body that comes from the milk, the taste and the flavour becomes very three-dimensional and soft.
Gyokuro with Milk
I also tried to mix Gyokuro with milk. Unfortunately, it becomes a very odd drink. It gives the flavor like Matcha. However, it also gives the umami taste like creamy soup. It was a very mysterious drink after all.
Natural Farming Sencha with Milk
Since I gave up Gyokuro with milk due to the "umami" taste, I decided to test Uji Sencha Jubuzan and Tsukigase Zairai Sencha that was produced with natural farming method, and thus these teas usually contain very less amino acid. As I expected, the natural farming Sencha has pretty good affinity with milk. It gives no wired flavour or taste like what I've experienced with Gyokuro. However, the flavour of tea becomes too delicate once it is mixed with milk. It was like I was drinking one kind of milk. I thought it is necessary to increase the concentration of tea. It may be nice if it is served as iced sencha with milk.
After I have conducted the experiences mixing various type of tea with milk, I got to know that the aftertaste of tea is crucial in order to obtain a good effect between the mixture of tea and milk. Since milk can enhance the body, it is less important whether the tea has strong body.
Related Articles
How to get the latest update on HOJO Tea?
1. Follow Twitter, 2. Click "Like" on Facebook, and 3. Subscribe in newsletter. You can have the latest tea news from HOJO Tea.
Subscribe the Newsletter to enjoy the privileges

You may receive a free sample upon purchase, or you may have the priority to purchase special products. So please remember to subscribe our newsletter as well as the social network.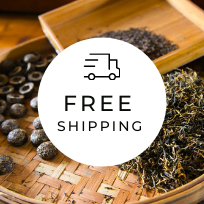 HOJO TEA Online Shop NEWS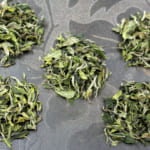 The ancient white tea is a very popular tea in our store. We produced this tea in spring. Following production, it was stored in an oxygen-free environment for several months to further enhance its flavor, achieving the expected maturation. The production of ancient tree white tea is limited in quantity per day, resulting in small …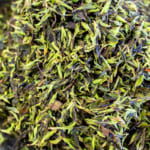 We have released the 2023 harvest of wild white tea from the Da Xue Shan. Fresh Green Colour of Leaves Achieved Through Custom Production Da Xue Shan's wild white tea is an incredibly rare type of white tea, and it's made from a unique plant called Camellia Taliensis that grows in the wild in the …
Shop Info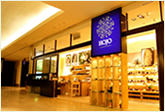 Address:Lot No. T-215, 3rd Floor, The Gardens Mall, Mid Valley City, Lingkaran Syed Putra, 59200 Kuala Lumpur
Tel: +603-2287-4537
Business Hour: 10am to 10pm
Category
Profile

AKIRA HOJO

I invite you to experience my tea selections.I was born in Nagano, Japan. In university, I studied agricultural chemistry, and I have the master degree in food science. I worked in Japanese food industry for 10 years. I involved in R&D, QC and QA. As a factory manager, I implemented ISO9000 series and managed the factory.
Media Release


We posted the article on "The Art of Tea Magazine No.9, the magazine is published in Taiwan. We featured some scientific view about the tetsubin

The Malaysian National Newspaper, New Straits Times featured HOJO Tea on 17-Oct-2007.