Do You Know What Exactly is Jasmine Tea?
[2018.10.30] Posted By Akira Hojo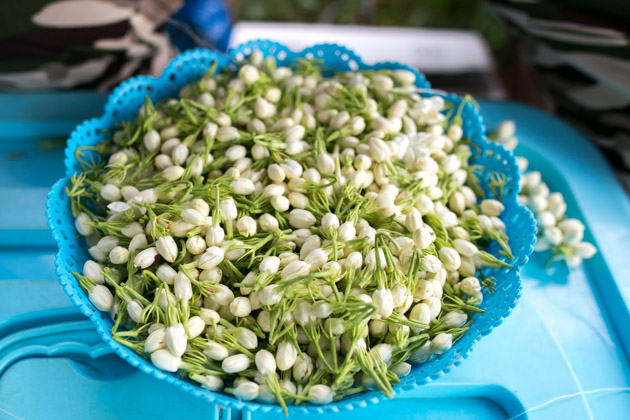 We went to Heng Xian county located in Guangxi of China for sourcing jasmine tea. We would like to introduce how jasmine tea is made.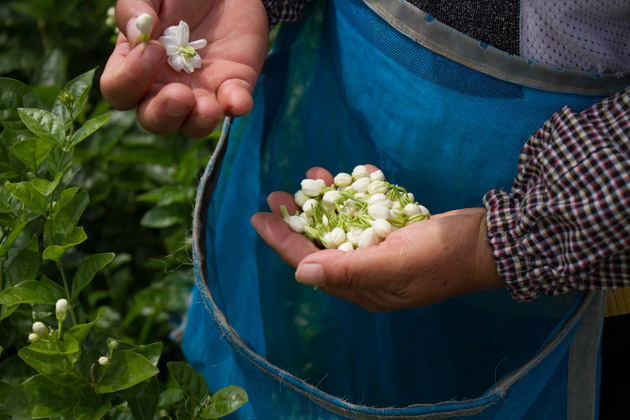 What is jasmine tea?
Do you know what exactly is jasmine tea?
Some may think jasmine tea is made from jasmine flowers or leaves of jasmine. However, this is not true.
Jasmine tea is made from green tea that is scented with fresh jasmine flowers. Thus, jasmine tea is literally made from "tea leaf".
For high end Jasmine tea, fresh jasmine flowers is used. Nevertheless, for making lower quality Jasmine tea, it is blended with recycled jasmine flowers or scented with essential oil.
Making Jasmine tea
In China, usually the base tea of jasmine tea is green tea. However, it is not necessary to be green tea. The base tea can be any tea, such as oolong tea, white tea or pu-erh tea, as long as tea is scented with jasmine flowers.
The jasmine flowers bloom at night. So the base green tea is blended with jasmine flower at night and let tealeaf absorb the natural fragrance of jasmine during night. Next day, the sifting is conducted in order to separate jasmine flowers from tea leaves. Tea is then dried and continue the scenting with fresh jasmine flowers again and again. Usually, higher quality is scented for about 5-7 times.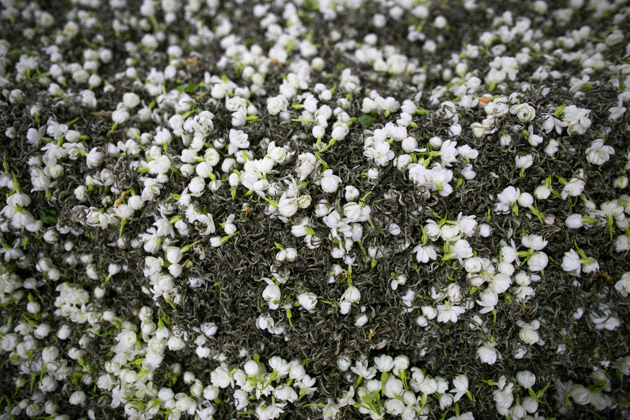 Above shows the scenting process of jasmine tea.
Green tea used for jasmine tea
In 10 years ago, most of jasmine pearl in China market was made from Fujian cultivars, such as Fu Ding Da Bai. However, starting from 2010-2013, the price of Fujian green tea has significantly increased. It was due to the speculation of white tea as the aging of white tea was the recent trend in China tea market. In the past 10 years, the price of jasmine base green tea has increased nearly 5-10 times. In addition to the price, it is very hard to achieve the pesticide requirements of EU or Japan standard with Fujian green tea.
Nowadays, Yunnan green tea has drawn a lot of attentions. In Yunnan, a lot of green teas are grown at high altitude, and with less or no fertilizer and pesticide. Although the characteristic of Yunnan green tea differs from that of Fujian green tea, it works very well as jasmine tea.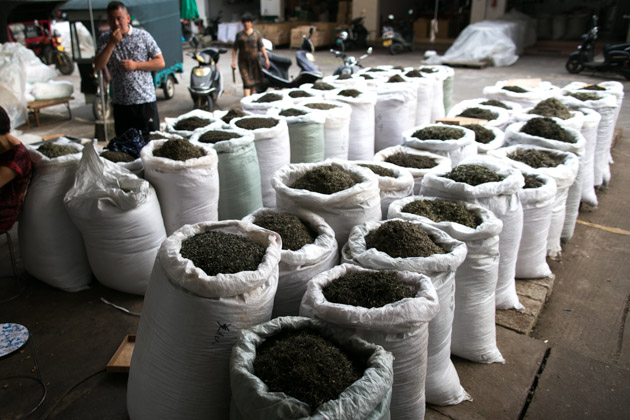 In Heng Xian county of Guangxi, there were a number of whole sellers who were selling green tea. However, the pesticide status is normally unclear. Thus, we only booked green tea before spring from specific tea garden.
Home town of Jasmine tea
Before 2010, there were a lot of jasmine flower gardens located in Fujian province. At that time, both green tea and jasmine flower was made there and processed right there. From 2013-2015 onwards, most of jasmine flower gardens has disappeared. Instead, Fujian province was rapidly developed into city and various infrastructures were installed at the same time. Now, most of jasmine flowers produced in China was grown in Guangxi. In fact, Guangxi is a very ideal growing place for jasmine flower. Thanks to the location at South West of China, the weather is warm throughout out a year and the land is not too expensive.
For now, Guangxi produces the largest volume of jasmine flower not only in China but also in the world. Since Fujian province no longer produces jasmine flower, a lot of jasmine scenting factory has also moved from Fujian province to Guangxi. In Heng Xian county of Guangxi, a lot of jasmine scenting factory is ran by the manufacturers from Fujian province.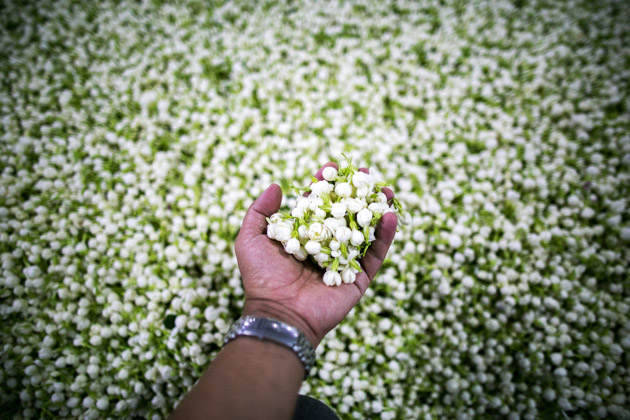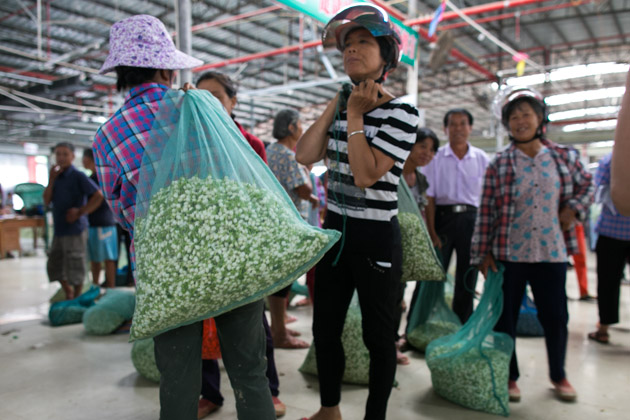 Jasmine market in Heng Xian county of Guangxi
Very complicated process to purchase jasmine tea
The base green tea collected in Fujian or Yunnan province is sent to the factory in Guangxi, where tea is mixed with jasmine flowers for scenting.
For us, buying jasmine tea is a very complicated process. At first, in early spring we have to purchase green tea that can meet our quality and pesticide requirement. Tea is then kept until summer for the scenting with jasmine flowers.
The scenting process is a very tedious process that required a lot of know-how in detail. Usually, we receive the production sample a few times during the scenting process. Based on the flavour and taste we need to further discuss with the scenting professional to decide the next process. As compared to the normal tea. it requires a lot of time and attention to produce jasmine tea.
Related Articles
How to get the latest update on HOJO Tea?
1. Follow Twitter, 2. Click "Like" on Facebook, and 3. Subscribe in newsletter. You can have the latest tea news from HOJO Tea.
Subscribe the Newsletter to enjoy the privileges

You may receive a free sample upon purchase, or you may have the priority to purchase special products. So please remember to subscribe our newsletter as well as the social network.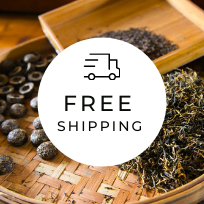 HOJO TEA Online Shop NEWS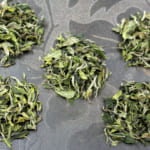 The ancient white tea is a very popular tea in our store. We produced this tea in spring. Following production, it was stored in an oxygen-free environment for several months to further enhance its flavor, achieving the expected maturation. The production of ancient tree white tea is limited in quantity per day, resulting in small …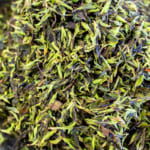 We have released the 2023 harvest of wild white tea from the Da Xue Shan. Fresh Green Colour of Leaves Achieved Through Custom Production Da Xue Shan's wild white tea is an incredibly rare type of white tea, and it's made from a unique plant called Camellia Taliensis that grows in the wild in the …
Shop Info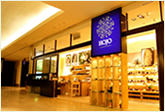 Address:Lot No. T-215, 3rd Floor, The Gardens Mall, Mid Valley City, Lingkaran Syed Putra, 59200 Kuala Lumpur
Tel: +603-2287-4537
Business Hour: 10am to 10pm
Category
Profile

AKIRA HOJO

I invite you to experience my tea selections.I was born in Nagano, Japan. In university, I studied agricultural chemistry, and I have the master degree in food science. I worked in Japanese food industry for 10 years. I involved in R&D, QC and QA. As a factory manager, I implemented ISO9000 series and managed the factory.
Media Release


We posted the article on "The Art of Tea Magazine No.9, the magazine is published in Taiwan. We featured some scientific view about the tetsubin

The Malaysian National Newspaper, New Straits Times featured HOJO Tea on 17-Oct-2007.