Discover the Unique Taste of Wu Jia Ping Zhang Ancient Tree Raw Pu-Erh Tea
[2023.04.02] Posted By Akira Hojo

We have released Wu Jia Ping Zhang ancient tree raw pu-erh tea for 2020 and 2021. This tea is grown in tea gardens located around 2100 meters above sea level in the southwestern part of Lincang City, Yunnan Province of China, just a few dozen kilometres from the Myanmar border.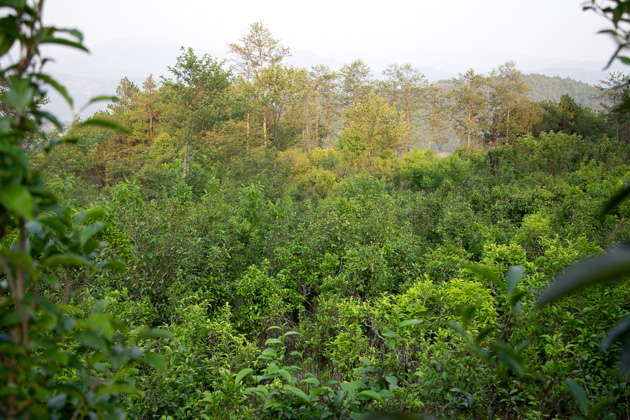 Single-origin tea
Wu Jia Ping Zhang ancient tree raw pu-erh tea is from the Wu Jia Ping area located in Wu Jia Zhai Village, Yong De County, Lincang City. In Chinese, "zhai" means a smaller unit than a village, usually referring to a settlement with a few hundred people. Wu Jia Zhai Village is named after the Wu family, who lived there, and the name Wu Jia Zhai means the "settlement of the Wu family". HOJO also offers a pu-erh tea called Wu Jia Zhai ancient tree raw pu-erh tea, which uses tea leaves from several tea gardens in Wu Jia Zhai Village. In contrast, Wu Jia Ping Zhang ancient tree raw pu-erh tea is a single-origin tea from a specific tea garden.
Wu Jia Ping Zhang raw pu-erh tea has a long-lasting flavor because it is made from old tea trees that have been growing naturally for hundreds of years. The tea trees were not treated with any chemicals like pesticides or fertilizers, not even organic ones were used. Tea grows slowly, which allows it to develop a high concentration of natural tea substances.
Two Different Personalities of Tea
We just launched two new teas: one is made from tea leaves harvested in 2020 and the other from tea leaves harvested in 2021. The 2020 tea comes in a 357g cake, while the 2021 tea comes in a 200g cake. The 2020 tea has been stored without oxygen for two years before we made it available for sale. Tea has well-matured and developed an intense sweet note.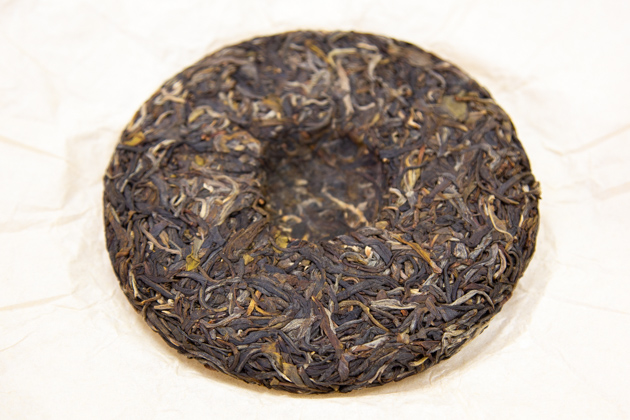 The photo shows the 2021 Wu Jia Ping Zhang ancient tree raw pu-erh tea in a 200g cake.
To give each year's tea a distinct taste, we used different raw materials for the 2020 and 2021 teas, even though they are from the same location and same type of tea.
For the 2020 tea, we used tea leaves harvested in mid-April because they have a good balance of flavor and aroma. These leaves have a high bud-to-leaf ratio, which gives the tea a smooth taste and creamy mouth-feel.
In contrast, the tea produced in 2021 is made from tea leaves harvested in mid-May, which is also the first harvest of the year. These leaves were obtained from the same tea garden as the 2020 tea. Tea gardens in Yunnan province usually have trees of varying ages growing together, as new tea trees are often planted when a new generation takes over. The Wu Jia Ping Zhang tea garden is also made up of tea trees of different ages, ranging from around 100 years old to several hundred years old.
Younger tea trees grow faster, while older ones grow more slowly. As a result, the older and more mature tea trees start budding later in April, and the first harvest of the year is only available for harvesting in May. Therefore, the May-batch of tea consists of leaves from the older tea trees.
You may assume that the quality of tea improves with the age of the tea tree. However, the harvest season for high-aged tea occurs in May, when the temperature has risen and the season has progressed compared to April. This causes the tea leaves to open more, resulting in a lower ratio of buds in terms of weight. Consequently, the creamy and smooth mouthfeel that is typical of tea harvested in April is lost, and instead, the tea has a clearer and more refreshing taste with deeper aftertaste and more long-lasting finishing.
To be frank, I appreciate both characteristics. The 2020 harvest strikes a good balance and is more popular with everyone, while the 2021 harvest has a sharper quality that is preferred by connoisseurs.
If you reside in Malaysia, Singapore, or Brunei and are interested in purchasing and shipping this tea, please visit Our Website.
For international customers, please send us an email at info2@hojotea.com to learn how to purchase this tea.
Related Articles
How to get the latest update on HOJO Tea?
1. Follow Twitter, 2. Click "Like" on Facebook, and 3. Subscribe in newsletter. You can have the latest tea news from HOJO Tea.
Subscribe the Newsletter to enjoy the privileges

You may receive a free sample upon purchase, or you may have the priority to purchase special products. So please remember to subscribe our newsletter as well as the social network.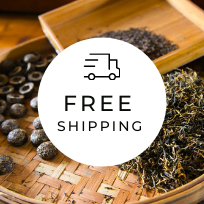 HOJO TEA Online Shop NEWS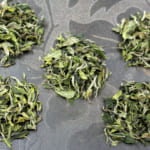 The ancient white tea is a very popular tea in our store. We produced this tea in spring. Following production, it was stored in an oxygen-free environment for several months to further enhance its flavor, achieving the expected maturation. The production of ancient tree white tea is limited in quantity per day, resulting in small …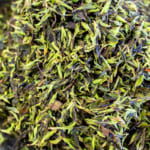 We have released the 2023 harvest of wild white tea from the Da Xue Shan. Fresh Green Colour of Leaves Achieved Through Custom Production Da Xue Shan's wild white tea is an incredibly rare type of white tea, and it's made from a unique plant called Camellia Taliensis that grows in the wild in the …
Shop Info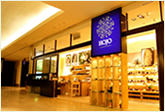 Address:Lot No. T-215, 3rd Floor, The Gardens Mall, Mid Valley City, Lingkaran Syed Putra, 59200 Kuala Lumpur
Tel: +603-2287-4537
Business Hour: 10am to 10pm
Category
Profile

AKIRA HOJO

I invite you to experience my tea selections.I was born in Nagano, Japan. In university, I studied agricultural chemistry, and I have the master degree in food science. I worked in Japanese food industry for 10 years. I involved in R&D, QC and QA. As a factory manager, I implemented ISO9000 series and managed the factory.
Media Release


We posted the article on "The Art of Tea Magazine No.9, the magazine is published in Taiwan. We featured some scientific view about the tetsubin

The Malaysian National Newspaper, New Straits Times featured HOJO Tea on 17-Oct-2007.