HOME >
New Arrival at HOJO Online Shop
Rare Jasmine Tea Uniquely Crafted from Ripe Pu-erh
[2023.06.01] Posted By Akira Hojo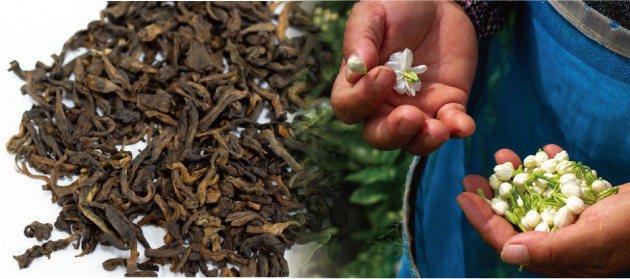 Instead of sourcing finished jasmine tea, we specialize in producing custom-made jasmine tea by bringing our carefully selected raw materials to jasmine factories. Over the years, we have created numerous unique jasmine tea varieties that are not available elsewhere, such as Pu-erh jasmine tea made from raw Pu-erh tea leaves, Jasmine Silver Needle made from white tea collected from old tea trees, and Wild Jasmine Bud made from wild white tea buds.
This time, we have processed a tea that we have always wanted to try as jasmine tea: ripe Pu-erh tea! You might wonder if ripe tea and jasmine tea would complement each other, so then we invite you to give it a try.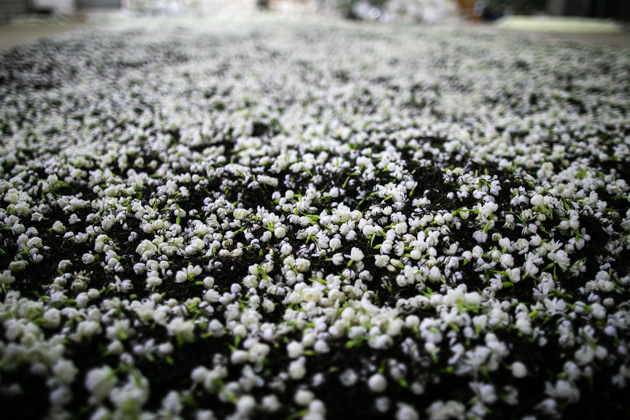 Photo of the jasmine scenting process
The remarkable compatibility between ripe Pu-erh tea and floral aromas
In fact, ripe Pu-erh tea exhibits a remarkable affinity for floral and fruity notes. In Hong Kong, there is a popular tea known as "Kok-pou" that combines ripe Pu-erh tea with chrysanthemum.
Furthermore, there has been a growing trend in recent years of stuffing ripe Pu-erh tea inside hollowed-out mandarin oranges, resulting in a uniquely flavoured tea.
Ripe tea also demonstrates unexpected versatility when blended with various types of tea. Have you ever tried blending ripe tea with black tea in a 50/50 ratio? The outcome is an exceptionally delightful blend.
Based on these experiences, I firmly believed that ripe tea would undoubtedly complement jasmine.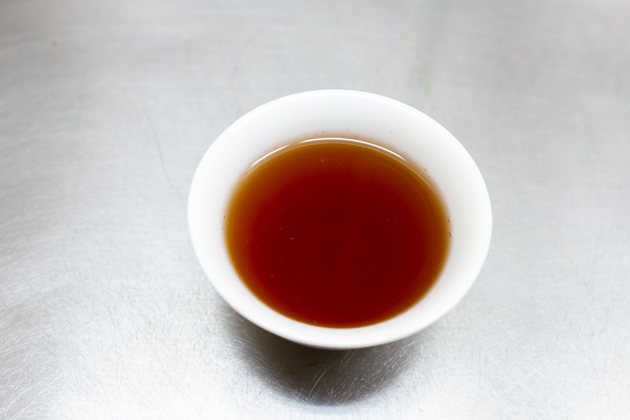 Using Ripe Pu-erh Tea Made from Naturally Grown Tea
When sourcing base-tea for Ripe Pu-erh Jasmine Tea, we specifically sought out naturally-grown tea. Naturally-grown tea imparts a rich and deep taste that is essential for crafting high-quality jasmine tea.
A tea that surprises everyone
We created this tea with the assumption that ripe pu-erh tea and jasmine aroma would complement each other well. However, I must admit I had some concerns until I actually tasted the finished tea. To my surprise, the mellow sweetness of the ripe tea combined with the refreshing aroma of jasmine created an unbeatable combination.
This tea is recommended not only for those who like jasmine tea but also for those who are not fond of ripe pu-erh tea. Due to the jasmine aroma, the distinct fermented flavor of ripe pu-erh tea is completely absent, replaced instead by the vibrant scent of jasmine. Furthermore, thanks to the rich and robust taste of ripe pu-erh, it offers a satisfying experience when consumed, making it a perfect choice for evenings or enjoyed alongside desserts.
Moreover, as this tea is based on ripe Pu-erh tea, it has a warming effect on the body. When you actually drink it, you will experience not just a slight warmth, but a remarkable sensation that leaves your body pleasantly cosy. This makes it an ideal choice for chilly days or when you want to feel warm and comfortable.
Perfect pairing with desserts!
Ripe Pu-erh jasmine tea is a great match for desserts. Unlike regular jasmine tea, which has a refreshing taste due to its green tea base, it doesn't always go well with all desserts. However, ripe Pu-erh jasmine tea, with its fermented tea as the base tea, pairs exceptionally well with sweet treats like pastries. It's also a versatile option that complements a wide variety of desserts, including baked apples, apple pie, tarts, cheesecakes, and desserts made with fruit puree or jam.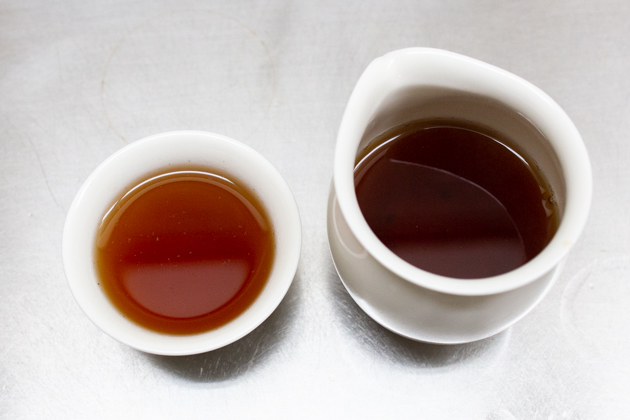 Ripe Pu-erh jasmine tea unlocks a new dimension of milk tea
Surprisingly, when ripe pu-erh jasmine tea is prepared as milk tea, it undergoes a remarkable transformation and becomes an exceptionally delightful beverage. As someone who usually prefers drinking tea without any additions, even I find myself irresistibly tempted to give it a try. Once transformed into milk tea, the floral fragrance of jasmine takes on a fruity undertone, and when combined with the creamy texture of the milk, a sweet fruity essence reminiscent of apple tea emerges. It's as if you're entering an entirely new realm of milk tea experience.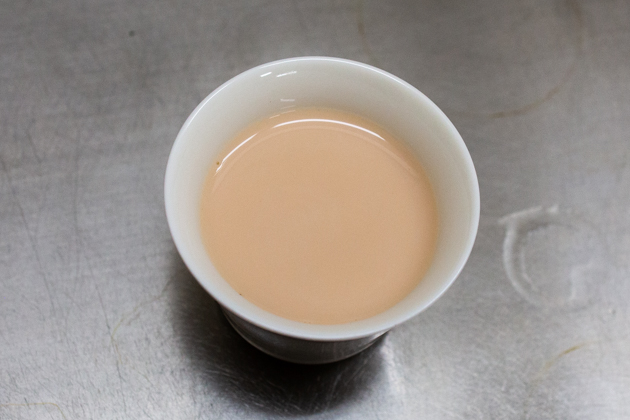 Recommended for cocktails and mixing with shochu
Ripe Pu-erh jasmine tea is not only fascinating as a standalone drink but also an intriguing ingredient for cocktails. One simple and outstanding combination is with shochu, Japanese distilled spirit. Try mixing black jasmine tea with a mild-flavoured shochu such as barley, rice, or black sugar-based varieties. Once you experience it, you'll become addicted. Additionally, you can experiment by substituting shochu with other spirits like tequila, rum, or vodka. And if you're looking for a distinct twist, adding milk to ripe pu-erh jasmine tea infused with shochu creates a one-of-a-kind beverage.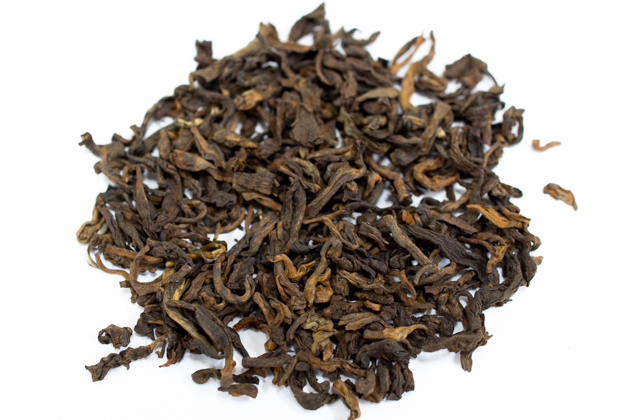 Concerning the occasional presence of green tea mixed in
We carefully select and sort tea leaves by hand and package them with great care. However, during the production of jasmine tea, there may be a small unintentional mix of green tea or white tea. This can occur if traces of our previously processed teas, like Snow Jasmine or Jasmine Silver Needle, remain in the drying machine and occasionally get mixed in. Although we make efforts to remove non-ripe pu-erh tea leaves during hand-sorting, it may not be possible to completely eliminate green tea or white tea buds that have a similar color to ripe tea in their dry form. If you discover green tea leaves mixed in while brewing the tea, please understand that it will not impact the taste or aroma.
How to buy?
If you reside in Malaysia, Singapore, or Brunei and are interested in purchasing and shipping this tea, please visit Our Website.
For international customers, please send us an email at info2@hojotea.com to learn how to purchase this tea.
Related Articles
How to get the latest update on HOJO Tea?
1. Follow Twitter, 2. Click "Like" on Facebook, and 3. Subscribe in newsletter. You can have the latest tea news from HOJO Tea.
Subscribe the Newsletter to enjoy the privileges

You may receive a free sample upon purchase, or you may have the priority to purchase special products. So please remember to subscribe our newsletter as well as the social network.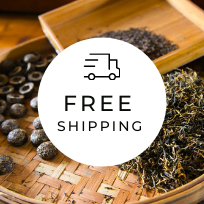 HOJO TEA Online Shop NEWS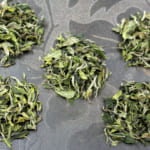 The ancient white tea is a very popular tea in our store. We produced this tea in spring. Following production, it was stored in an oxygen-free environment for several months to further enhance its flavor, achieving the expected maturation. The production of ancient tree white tea is limited in quantity per day, resulting in small …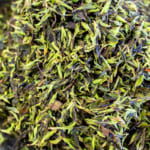 We have released the 2023 harvest of wild white tea from the Da Xue Shan. Fresh Green Colour of Leaves Achieved Through Custom Production Da Xue Shan's wild white tea is an incredibly rare type of white tea, and it's made from a unique plant called Camellia Taliensis that grows in the wild in the …
Shop Info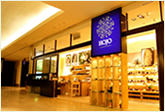 Address:Lot No. T-215, 3rd Floor, The Gardens Mall, Mid Valley City, Lingkaran Syed Putra, 59200 Kuala Lumpur
Tel: +603-2287-4537
Business Hour: 10am to 10pm
Category
Profile

AKIRA HOJO

I invite you to experience my tea selections.I was born in Nagano, Japan. In university, I studied agricultural chemistry, and I have the master degree in food science. I worked in Japanese food industry for 10 years. I involved in R&D, QC and QA. As a factory manager, I implemented ISO9000 series and managed the factory.
Media Release


We posted the article on "The Art of Tea Magazine No.9, the magazine is published in Taiwan. We featured some scientific view about the tetsubin

The Malaysian National Newspaper, New Straits Times featured HOJO Tea on 17-Oct-2007.