The Gungfu brewing method of Phoenix Oolong by the local tea expert
[2013.12.06] Posted By Akira Hojo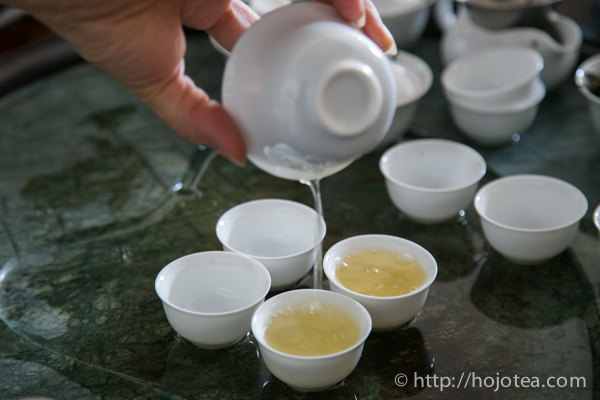 We made a video to demonstrate the authentic brewing method of Phoenix Dan Cong oolong by the local tea experts at Phoenix Mountain, which is called the Gongfu style. In this video, a gaiwan is used; however, you can also use a houhin, shiboridashi or teapot that has a fast enough flow of water. The key to execute this method perfectly is to acquire quick movements in every action; the flow of tea is very crucial. This method can also be applied for brewing Wuyi oolong, Tie Guan Yin, white tea and Pu-erh tea. For the Pu-erh tea, the brewing time during first brew should be longer as the tea leaves are compressed.
In the video, the lid was not removed after completing each brew because the leaves are brewed continuously. Though, if you intend to continue the next brewing with some intervals, it is important to remove the lid while waiting for the next brewing. The gaiwan used in this video is approximately 100ml; about 5g of tea leaves is used and water temperature is at 100 degree C. If you prefer a stronger kick, perhaps you can use up to about 8g of tea leaves.
Related Articles
How to get the latest update on HOJO Tea?
1. Follow Twitter, 2. Click "Like" on Facebook, and 3. Subscribe in newsletter. You can have the latest tea news from HOJO Tea.
Subscribe the Newsletter to enjoy the privileges

You may receive a free sample upon purchase, or you may have the priority to purchase special products. So please remember to subscribe our newsletter as well as the social network.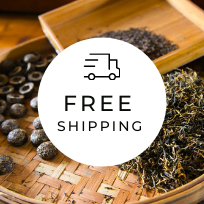 HOJO TEA Online Shop NEWS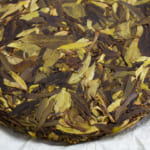 Da Xue Shan Wild White Tea 2021 is available now. This tea is always very popular in our shop. In Japan, we brought in loose tea this year, and for Malaysia we produced 200g cake. Mao cha before compressing into cake Very limited resources This tea is made from the wild tea, called Camelia taliensis. …
We have released two types of Darjeeling 1st Flush Tea. The reason why the Darjeeling 1st Flush is greenish In Darjeeling tea, the 1st flush refers to the first-plucked spring tea. Usually, the Darjeeling 1st Flush tea is greenish. From the outlook, it looks like a green tea. Many people misunderstand that it is green …
Shop Info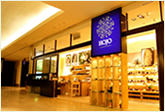 Address:Lot No. T-215, 3rd Floor, The Gardens Mall, Mid Valley City, Lingkaran Syed Putra, 59200 Kuala Lumpur
Tel: +603-2287-4537
Business Hour: 10am to 10pm
Category
Profile

AKIRA HOJO

I invite you to experience my tea selections.I was born in Nagano, Japan. In university, I studied agricultural chemistry, and I have the master degree in food science. I worked in Japanese food industry for 10 years. I involved in R&D, QC and QA. As a factory manager, I implemented ISO9000 series and managed the factory.
Media Release


We posted the article on "The Art of Tea Magazine No.9, the magazine is published in Taiwan. We featured some scientific view about the tetsubin

The Malaysian National Newspaper, New Straits Times featured HOJO Tea on 17-Oct-2007.