HOME >
New Arrival at HOJO Online Shop
High Mountain Purple Tea
[2014.05.18] Posted By Akira Hojo
HOJO NEWSLETTER No.28 The High Mountain Purple tea / 高山紫茶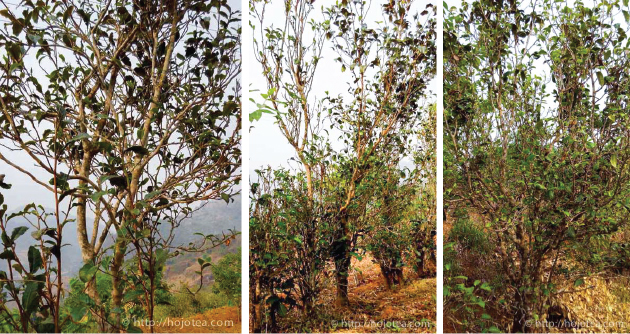 We have released a very unique tea, called High Mountain Purple Tea. This tea is from Lincang, Yunnan Province of China. We purchased this tea from a village that is situated about 30-50km from Myanmar border and the altitude of the tea garden is approximately 2000-2300m. In this high mountain village, they used to collect tea leaves from a particular variety of tea that the local people called purple tea.There are two possible reasons why this tea would be called purple tea.
The stem of some leaves are purple colour
In a general view, the appearance of the harvested tea leaves is more or less the same as the ordinary tea.  From far, we can scarcely tell whether it is the purple tea. If we check closely on each leaf, we could observe that some stems have purplish colour. Nevertheless, not all stems are in purple colour. Based on my observation, it is rather less than 10-20% of leaves that bears this characteristic.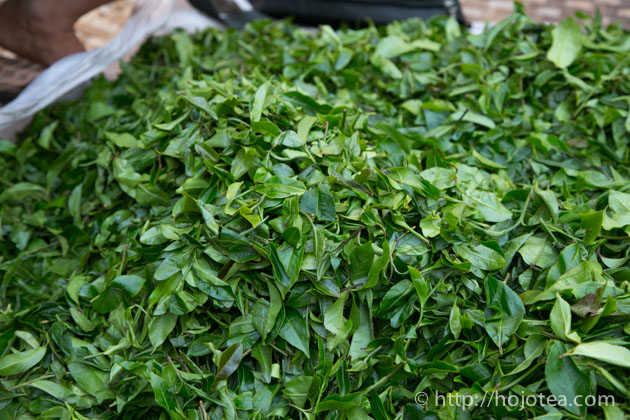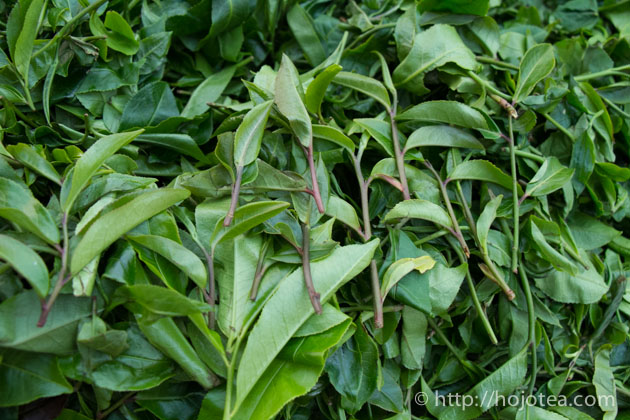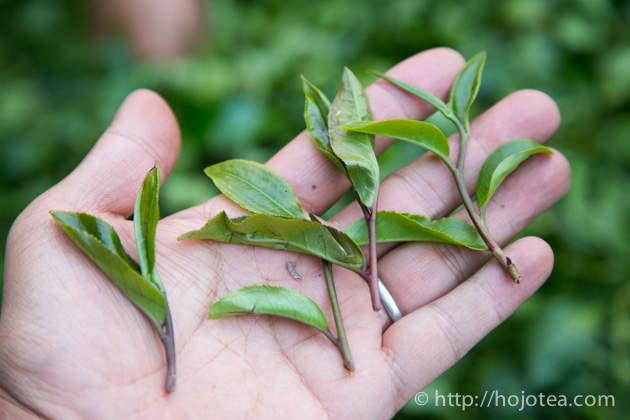 The colour of tea is like indigo bluish dark colour.
Another reason why this tea could be called purple tea is that after the processing, the mao-cha of this tea turns into very dark colour. It looks dark blue to purple colour. It may be due to the higher content of saponin or anthocyanin.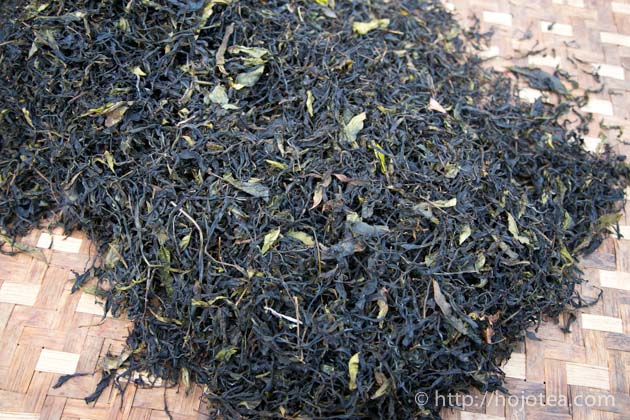 Very difficult to pan-fry the purple tea
The purple tea is known to be very much stickier than the ordinary tea. It could be due to the unique constituents such as saponin or anthocyanin. Because of this reason, the processing of this tea is difficult. During the pan-frying process, the tea leaves easily get burnt. Back in a few years ago I have known this tea. Yet, I could not find any well-processed purple tea. Any purple tea that I could obtain so far had some degree of burnt flavour. In springtime of this year, when I was walking around the village to look for the manufacturer, I met a skilled tea master who possesses really good skill in frying tea. I've decided to purchase his purple tea because I confirmed that his mao-cha has completely no burnt flavour.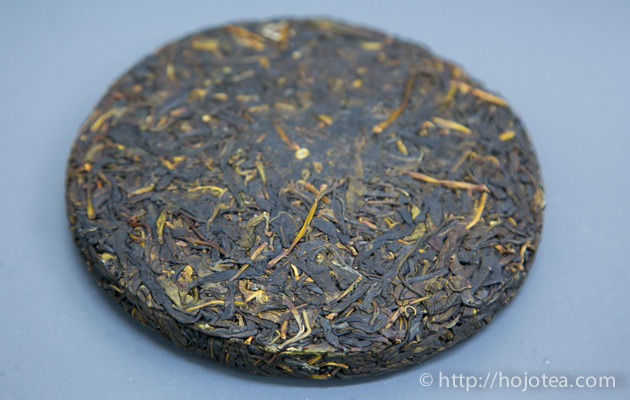 Extraordinary extent of body
The main characteristic of this tea is the overwhelmingly strong body on palate. This extent of the body is quite rare among the pu-erh tea in some way. One time I put this tea in my mouth, the sweetness spread widely on my palate. The tea leaves has slight honey sweet note, although it is not too strong at the moment since tea is still very fresh. The honey sweet flavour will significantly increase after this tea is kept for a few years. In fact, I have tried the mao-cha of high mountain purple tea that was made in 2013. I was impressed by its sweet honey note although tea is just kept for a year.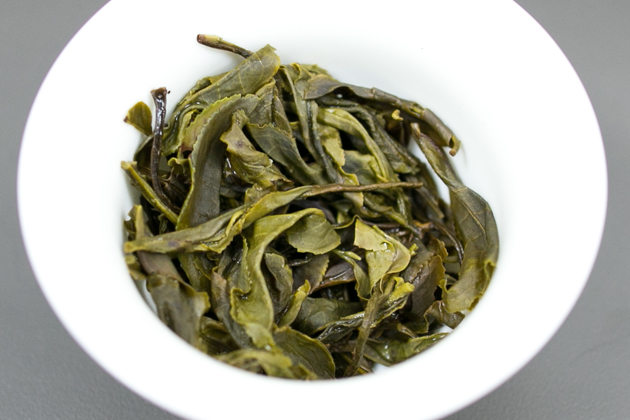 The high mountain purple tea is different from Zi Juan Cha 紫絹茶
Generally, people always associate purple tea with Zi Juan Cha 紫絹茶. However, the high mountain purple tea is a completely different tea variety from so-called Zi Juan Cha 紫絹茶. In 1985, the new tea variety was discovered in Nannuo Shan 南糯山. This tea got literally purple leaves and it was not suitable for drinking since it renders an extremely astringent taste. Later on, the Institute of Yunnan carried out the hybridization to produce the Zi Juan Cha that colour is purple but not astringent. The new cultivar is called Zi Juan Cha 紫絹茶 and since then it has been widely planted in Yunnan. Usually, Zi Juan Cha 紫絹茶 is grown in the tea plantation with the modern agricultural method, thus, it tends to give extremely less aftertaste.
http://news.t0001.com/2013/0130/article_157072.html
The High Mountain Purple Tea we collected from the mountain of Lincang has been traditionally drunk by the minority tribes. The age of some trees is pretty old and it is obviously the different variety of tea. On the contrary, compared to Zi Juan Cha 紫絹茶 that leaves are entirely in purple colour, the appearance of High Mountain Purple Tea is almost like ordinary tea variety. It gives no astringency and the taste is rather sweet and smooth. Please visit our shop to try this tea.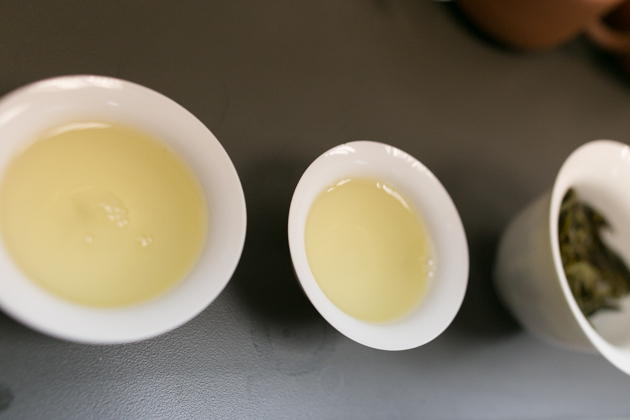 Related Articles
How to get the latest update on HOJO Tea?
1. Follow Twitter, 2. Click "Like" on Facebook, and 3. Subscribe in newsletter. You can have the latest tea news from HOJO Tea.
Subscribe the Newsletter to enjoy the privileges

You may receive a free sample upon purchase, or you may have the priority to purchase special products. So please remember to subscribe our newsletter as well as the social network.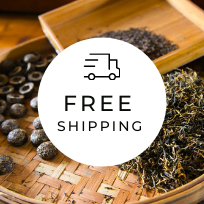 HOJO TEA Online Shop NEWS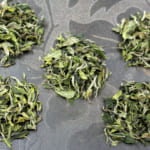 The ancient white tea is a very popular tea in our store. We produced this tea in spring. Following production, it was stored in an oxygen-free environment for several months to further enhance its flavor, achieving the expected maturation. The production of ancient tree white tea is limited in quantity per day, resulting in small …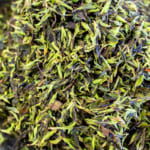 We have released the 2023 harvest of wild white tea from the Da Xue Shan. Fresh Green Colour of Leaves Achieved Through Custom Production Da Xue Shan's wild white tea is an incredibly rare type of white tea, and it's made from a unique plant called Camellia Taliensis that grows in the wild in the …
Shop Info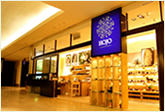 Address:Lot No. T-215, 3rd Floor, The Gardens Mall, Mid Valley City, Lingkaran Syed Putra, 59200 Kuala Lumpur
Tel: +603-2287-4537
Business Hour: 10am to 10pm
Category
Profile

AKIRA HOJO

I invite you to experience my tea selections.I was born in Nagano, Japan. In university, I studied agricultural chemistry, and I have the master degree in food science. I worked in Japanese food industry for 10 years. I involved in R&D, QC and QA. As a factory manager, I implemented ISO9000 series and managed the factory.
Media Release


We posted the article on "The Art of Tea Magazine No.9, the magazine is published in Taiwan. We featured some scientific view about the tetsubin

The Malaysian National Newspaper, New Straits Times featured HOJO Tea on 17-Oct-2007.