HOME >
New Arrival at HOJO Online Shop
New Release of Vintage Guo Gan Ripe Pu-erh Tea
[2019.03.08] Posted By Akira Hojo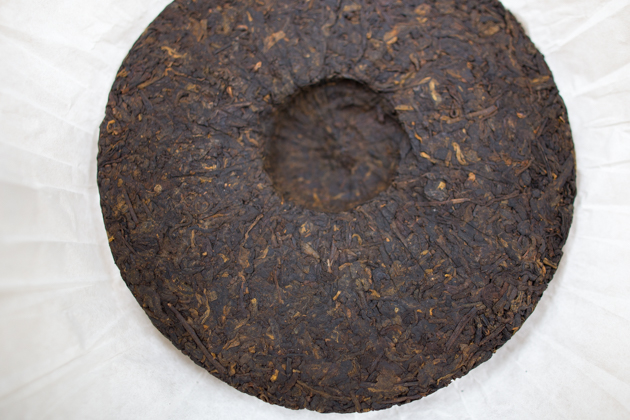 We released very rare and limited ripe pu-erh tea. It is 9 years vintage ripe pu-erh tea from Guo Gan in Myanmar. It gives distinctive vintage tea flavour with a hint of dry-fruity flavour and herbal-like aroma.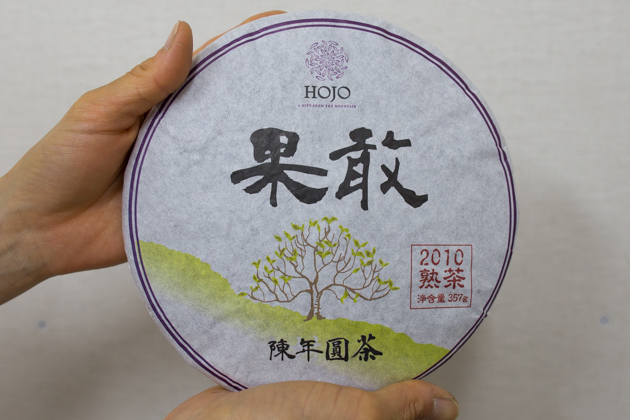 Tea grown in Myanmar-China border town
Guo Gan is the place in Myanmar facing to Yunnan, China. This area is dominated by Chinese. Therefore, both economy and culture in Guo Gan are deeply influenced from Yunnan. The production of pu-erh tea is one of the main resources in Guo Gan. In fact, the Guo Gan tea quality has very good reputation among the tea business man in Yunnan.
Unfortunately, Guo Gan is not a very peaceful place. There is civil war between ethnic minority and Myanmar military for several years. In 2015, the war was intensified. There were even fighter jet and mortar flown very often over tea production area. For now, the war was suspended. But it is still not safe to travel to Guo Gan at all.
In 2013, I have ever visited Guo Gan. At that time, I saw a number of soldiers carrying machine gun and rifle and patrolling around the town. It was very terrifying experience.
Even though Guo Gan is not very peaceful and a number of tea production areas were destroyed during the civil war, Guo Gan tea is still being exported to Yunnan. Despite the supply of Guo Gan tea is decreasing, the demand and the reputation is on the increase. The name "Guo Gan" is recognized as the brand of good material for pu-erh tea. Since Chinese is now unable to enter Guo Gan, raw pu-erh tea is processed by farmers or manufacturers of Guo Gan, and these teas will be transported to Yunnan for further fermentation to produce ripe pu-erh tea.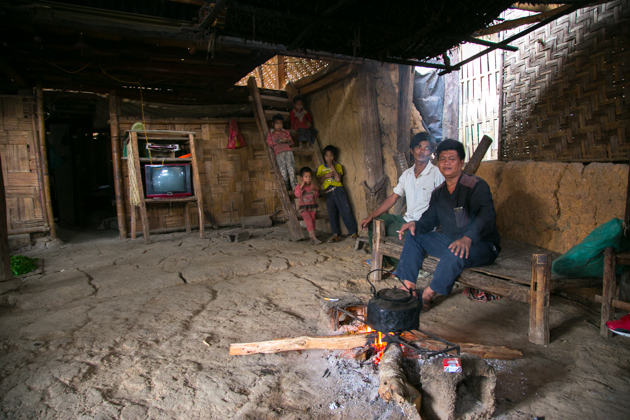 Farmer's family in Guo Gan (photo above) and Tea Garden (photo below). These pictures were taken in 2013.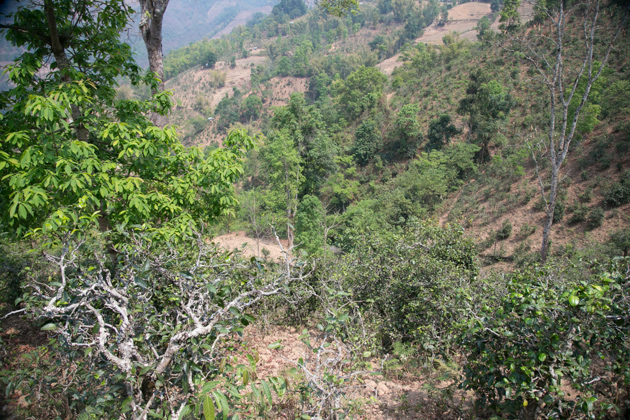 We found vintage pu-erh tea
For many years, we have been visiting the ripe pu-erh tea factory who specialize in Guo Gan tea. Nowadays, we were becoming very close to them. When we visited them last year, we found that the factory manager has kept 2010 vintage ripe pu-erh tea of Guo Gan. This batch of tea was made of spring tea. He kept it for his own. In previous years, the cost of tea was very low and the ripe pu-erh tea was made of spring tea too. Nowadays, due to the cost of tea has increased, most of the ripe pu-erh tea is made of summer and autumn tea. For now, it's not easy to find ripe pu-erh tea made of spring tea. Although his asking price was slightly more expensive than the freshly produced pu-erh tea, it was rather low for us considering the quality of the material, and tea has been aged for more than 8 years. Since he was willing to offer it to us, we immediately decided to take all the stock without second thought.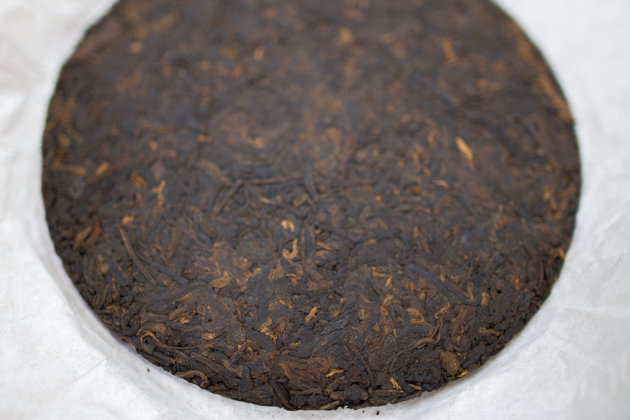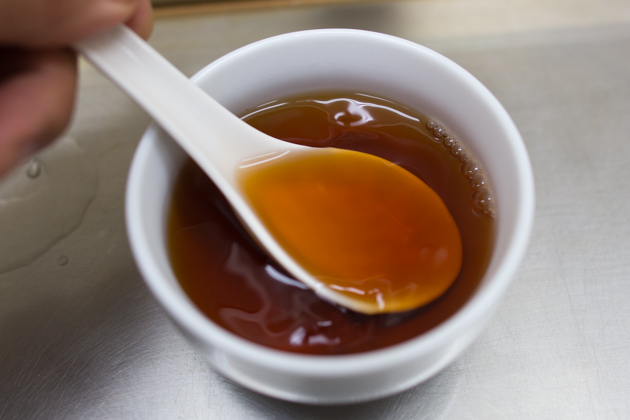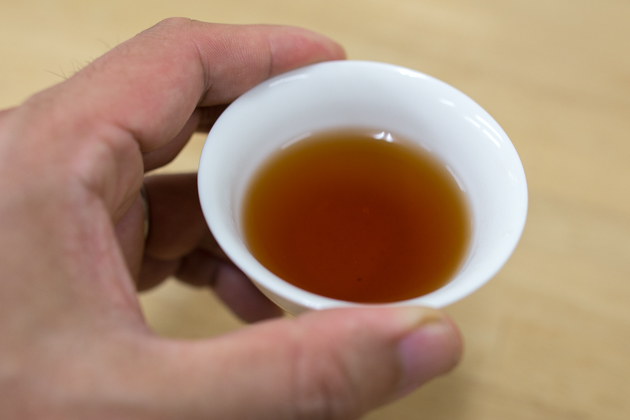 Tea was stored in a tea warehouse at 2000m
The mao-cha (loose tea) of 2010 vintage Guo Gan tea has been kept in a tea warehouse of the factory. The tea factory is located at high mountain at about 2000m. Thanks to the high altitude of the factory, the environment was very dry. I think tea was aged in quite an ideal manner.
As the typical characteristics of Guo Gan tea, the tea gives strong body and thick taste. It gives sweet flavour like dried dates with slight woody or camphor flavour. As we just compressed it into tea cake, the flavour turned a little moderate. But the flavor should be coming back soon after aging it for a short while.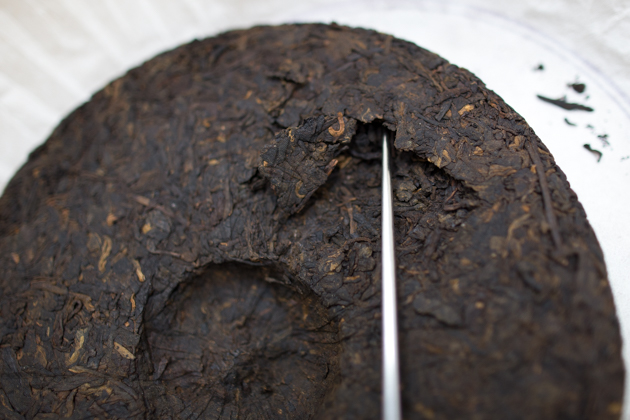 Ideal brewing method
For brewing this tea, it is very important to use high temperature. Firstly, warm up tea ware with boiling hot water for 10 seconds. Secondly, it is important to heat up tea leaf. Please rinse tea leaf with boiling water twice for 10 seconds each. Without these steps, the brewing temperature may be less than 90-degree C which is not hot enough to brew the best cup of tea.
Due to the civil war in Guo Gan, it is getting harder and harder to obtain good Guo Gan tea, and not to mention to obtain the vintage Guo Gan tea. In a way, I think it is very rare and precious tea.
Related Articles
How to get the latest update on HOJO Tea?
1. Follow Twitter, 2. Click "Like" on Facebook, and 3. Subscribe in newsletter. You can have the latest tea news from HOJO Tea.
Subscribe the Newsletter to enjoy the privileges

You may receive a free sample upon purchase, or you may have the priority to purchase special products. So please remember to subscribe our newsletter as well as the social network.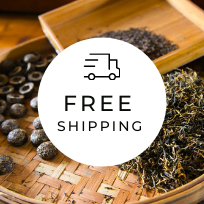 HOJO TEA Online Shop NEWS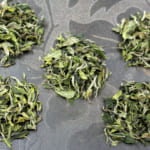 The ancient white tea is a very popular tea in our store. We produced this tea in spring. Following production, it was stored in an oxygen-free environment for several months to further enhance its flavor, achieving the expected maturation. The production of ancient tree white tea is limited in quantity per day, resulting in small …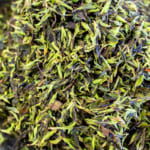 We have released the 2023 harvest of wild white tea from the Da Xue Shan. Fresh Green Colour of Leaves Achieved Through Custom Production Da Xue Shan's wild white tea is an incredibly rare type of white tea, and it's made from a unique plant called Camellia Taliensis that grows in the wild in the …
Shop Info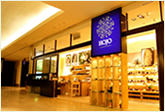 Address:Lot No. T-215, 3rd Floor, The Gardens Mall, Mid Valley City, Lingkaran Syed Putra, 59200 Kuala Lumpur
Tel: +603-2287-4537
Business Hour: 10am to 10pm
Category
Profile

AKIRA HOJO

I invite you to experience my tea selections.I was born in Nagano, Japan. In university, I studied agricultural chemistry, and I have the master degree in food science. I worked in Japanese food industry for 10 years. I involved in R&D, QC and QA. As a factory manager, I implemented ISO9000 series and managed the factory.
Media Release


We posted the article on "The Art of Tea Magazine No.9, the magazine is published in Taiwan. We featured some scientific view about the tetsubin

The Malaysian National Newspaper, New Straits Times featured HOJO Tea on 17-Oct-2007.