HOME >
New Arrival at HOJO Online Shop
Rare white tea from Ma An Shan
[2015.12.12] Posted By Akira Hojo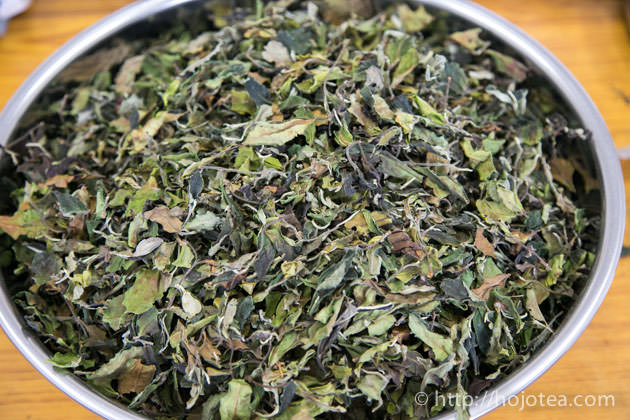 We produced white tea using the material from Ma An Shan. This is one of the best sources of tea which gives extraordinarily strong body and aftertaste. Ma An Shan white tea gives very long lasting finishing and sweetish aftertaste. This is one of the exquisite white teas in our lineup.
Tea from above 2000m
Ma An Shan is located at the west of Lin Cang, quite near to Myanmar border. The name of Ma An Shan is used for the mountain as well as the small village. In Chinese, Ma An means horse saddle. It is named as such since the shape of the mountain resembles the saddle. The altitude of Ma An Shan village is around 1500-1700m. We are sourcing tea from the deeper area on the mountain where the altitude is above 2000m. Due to the huge temperature gap between days and nights, tea grows very slowly and it accumulates much more tea constituents.
Full body and sweetness on palate
The main characteristic of Ma An Shan tea is extremely strong body. The flavor is so rich and it gives full bodied and bold drinking sensation. Tea is produced completely in natural farming style. The farmer gives no fertilizer, no pesticide, no pruning and not even weeds are removed from the tea gardens. In other words, the Ma An Shan tea garden is not being taken care and the tea tree is grown completely in a natural environment. It makes the growing speed of tea extremely slow, and tea is very rich in polyphenols and minerals. As a result, tea gives a very long-lasting finishing; you may feel the sweetness down the throat for a long time.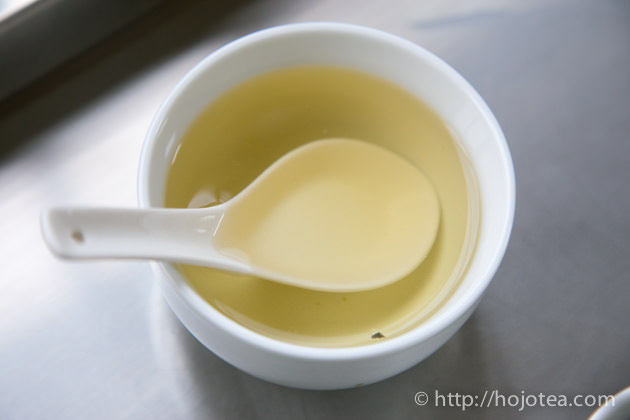 Process in a traditional way
This Ma An Shan White Tea was custom-made according to our exact requirements. Before the tea season starts, we discuss with the manufacturer in detail regarding the ideal specifications of tea. For ordinary Bai Mu Dan white tea produced in Fujian province, the plucking standard is 1 bud and 2 leaves. However, we decided to follow the pu-erh or oolong plucking standard which is 1 bud and 3 leaves, as we wish to have stronger flavor and taste.
We conducted the withering process for more than 2 days in order to give sufficient dehydration stress and initiates enzymatic fermentation, as such the sweetness of tea will increase more, although the color of tea leaf turns darker to beige-brown color. Nowadays, the Bai Mu Dan white tea in Fujian province is usually withered in a much shorter time since the manufacturers put emphasis on the tea color. In Fujian province, they are extremely particular about the color of tea. With a short withering process, the tealeaf can maintain green color and the appearance in overall is brighter. However, tea tends to gives a pungent greenish aroma and lacks lingering sweet taste.
After a long discussion with the manufacturer, we decided not to emphasize too much on the tea color. We did not mind that some leaves turn beige color too. What we wanted was the sweetness and matured flavor. The withering process was not carried out in a specific room but under the natural wind. Tea leaves are spread on the bamboo trays and withered under the well-ventilated place. You may notice the very identical sweet aroma like Muscat grapes and a hint of raw honey and floral note.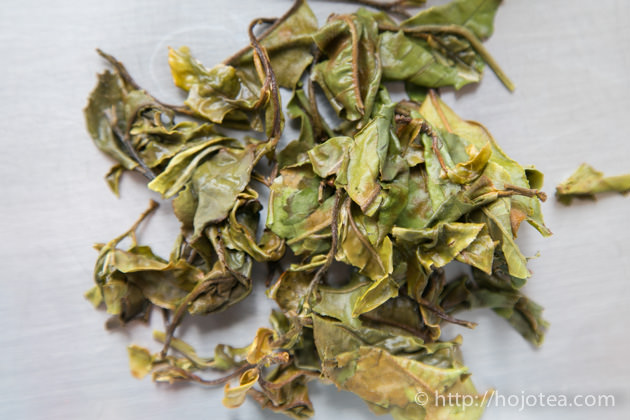 Aging of white tea develops intense fruity flavor
Many people enjoy drinking the fresh white tea. But now it is also a trend to keep the white tea for more than a few years for maturation. Tea with high polyphenol content, like Ma An Shan tea, becomes matured faster and develops a very sweet fruity flavor. In addition, the fresh tea leaves used to make Ma An Shan white tea have been attacked by the tiny green flies. Due to the insect attack, tea leaves naturally produced the substances that will develop muscatel flavor after the maturation. I suppose that Ma An Shan white tea may develop extraordinarily sweet flavor, similar to the flavor of ice wine. If you wish to speed up the maturation process, please leave the vacuum-sealed bag unopened and keep it under the warm environment. The higher the average temperature throughout a year, the faster the maturation takes place.
Kids love cold brewed white tea
Another way to enjoy Ma An Shan white tea is to brew with cold water. I put about 5g of tealeaf in 1 liter of water. After keep it at ambient or in the fridge for a few hours, the cold-brewed tea is ready. If you feel the taste is still too light, you may infuse it for another 1-2 hours. If you think the taste is too thick, you may add some water to dilute it. If you wish to extract more flavors, please use water that is boiled once and cooled down. I often keep cold-brewed white tea in my fridge and whenever I feel thirsty I will drink. It has very refreshing taste, soothing and giving full satisfaction thanks to the strong aftertaste. Since white tea is lightly fermented and processed in a very natural way, children will love it!
Related Articles
How to get the latest update on HOJO Tea?
1. Follow Twitter, 2. Click "Like" on Facebook, and 3. Subscribe in newsletter. You can have the latest tea news from HOJO Tea.
Subscribe the Newsletter to enjoy the privileges

You may receive a free sample upon purchase, or you may have the priority to purchase special products. So please remember to subscribe our newsletter as well as the social network.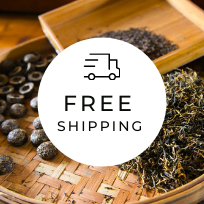 HOJO TEA Online Shop NEWS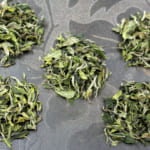 The ancient white tea is a very popular tea in our store. We produced this tea in spring. Following production, it was stored in an oxygen-free environment for several months to further enhance its flavor, achieving the expected maturation. The production of ancient tree white tea is limited in quantity per day, resulting in small …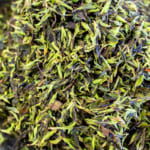 We have released the 2023 harvest of wild white tea from the Da Xue Shan. Fresh Green Colour of Leaves Achieved Through Custom Production Da Xue Shan's wild white tea is an incredibly rare type of white tea, and it's made from a unique plant called Camellia Taliensis that grows in the wild in the …
Shop Info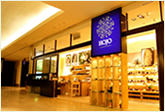 Address:Lot No. T-215, 3rd Floor, The Gardens Mall, Mid Valley City, Lingkaran Syed Putra, 59200 Kuala Lumpur
Tel: +603-2287-4537
Business Hour: 10am to 10pm
Category
Profile

AKIRA HOJO

I invite you to experience my tea selections.I was born in Nagano, Japan. In university, I studied agricultural chemistry, and I have the master degree in food science. I worked in Japanese food industry for 10 years. I involved in R&D, QC and QA. As a factory manager, I implemented ISO9000 series and managed the factory.
Media Release


We posted the article on "The Art of Tea Magazine No.9, the magazine is published in Taiwan. We featured some scientific view about the tetsubin

The Malaysian National Newspaper, New Straits Times featured HOJO Tea on 17-Oct-2007.