HOME >
New Arrival at HOJO Online Shop
New release of Silver Needle made of Naturally farmed Yunnan Tea
[2017.03.06] Posted By Akira Hojo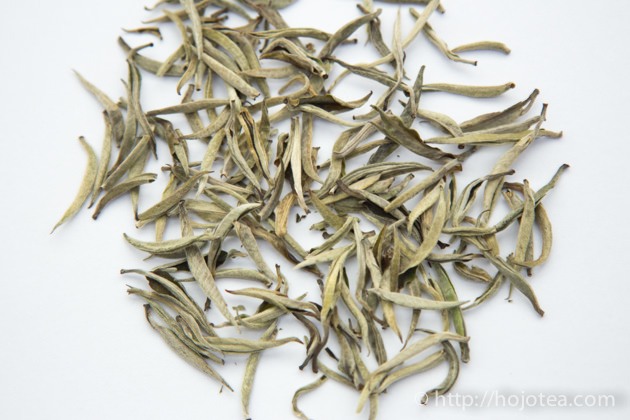 Silver Needle is the famous white tea produced in Fujian province of China. There are more than 1000 manufacturers situated around Fuzhou or Fu Ding area. We have been visiting the production site every year in the past 10 years to select the ideal tea directly from the tea manufacturers. However, it is getting tougher to upkeep the quality at the realistic price. Since we have been aware of the situation, we have been looking for an option to produce Silver Needle using Yunnan tea using natural farming tea. The natural farming tea gives extraordinarily long lasting aftertaste with sweetish finishing. The tea trees are grown at high altitude about 2000m.
The problem we are facing with Fujian White Tea
1. The speculation of price
The concept of aging white tea was newly introduced in Fujian province around 2010. Since then, a lot of white tea manufacturers started keeping white tea. As a result, white tea became a media for speculation. In a past 5 years, the price of white tea drastically increased. 10 years ago, white tea was a very casual tea that everyone can easily afford. Nowadays, the price is getting higher. Despite the price of tea is high, the Fujian white tea generally gives very light aftertaste. From the tea drinker's point of view, it is not a good situation as the quality and price ratio becomes imbalance.
2. Pesticide Issue
The premium grade of white tea is made of the earliest-plucked tea buds in spring. They are mostly sold for the Chinese domestic market. Since the domestic market has fewer requirements on the pesticide status, the tea manufacturers have very loose control on the pesticide usage at tea garden. We often came across with the situation that the quality is satisfactory but the pesticide inspection result fail.
There are organic tea gardens in China. However, the quality of the organic tea in China often does not meet my requirement. In China, it required nearly USD20,000 or more in order to obtain the organic certification. The small manufacturer or independent farmer cannot afford it. Those tea manufacturers who invested for the organic certificate have to keep up the hard work to recover the investment. As the trend, the organic garden uses a lot of "organic nitrogen-based fertilizer". The truth is, regardless of organic or chemical fertilizer, it promotes the growth of plants in an equal manner. Tea tree grows very fast and the quality comes down. So far I have contacted a number of organic tea garden in Fujian province to look for white tea. But the taste of those teas was light, shallow and the aftertaste was not lasting long enough.
White tea was also produced in Yunnan
In fact, t is not only Fujian province where white tea is being produced. There are several other places where the white tea is being produced. Yunnan province is one of them. In Yunnan, white tea is traditionally dried under the sun, while in Fujian, it is dried with hot air. The Yunnan white tea has higher extent of fermentation because of sunshine drying. It has specific flavor that is slightly different from that of the Fujian white tea. Nevertheless, we wanted to produce Silver Needle from Yunnan tea that gives the flavor like Fujian Silver Needle. So we decided to look for the material, and send it to the tea manufacturer whom has the right facility to process it using hot air dryer so as to achieve the same flavor as Fujian Silver Needle but much higher quality.
Good materials are often not processed with good skills and technology
According to our experience, when we go to the more remote areas, we have a higher chance of finding better quality tea. In particular, we note that the quality of the tea planted near the Burmese border is very good. They do not use pesticides and do not even use fertilizers. Tea trees are just left in nature as if they were wild plants. These teas have a very long aftertaste and a rich flavor.
Although tealeaf is excellent quality, the processing techniques in thees areas are often quite poor. Due to the inconvenience of transportation and accessibility, they lack the appropriate facilities for making tea. In addition, the proper quality management is lacking too.
Since we know the situation well, we require manufacturer who has the right facilities to collect fresh tealeaf from the rural area and process it according to the specific requirements we set. We follow the same processing parameter of Fujian white tea, and most importantly, tea is dried with hot air dryer.
Extraordinarily long lasting aftertaste
The new Silver Needle was made of the raw material collected in the village located around 50km away from the Myanmar border. The tea garden situated at about 2000m. It is maintained perfectly natural with no fertilizer or pesticide. Tea gives clean and long lasting aftertaste. The flavor of tea is not like the common Yunnan white tea. It has fresher grassy flavor with a hint of sweet nutty aroma. Despite of very long lasting and rich aftertaste, the flavor is very refine that is just like the Fujian traditional Silver Needle.
Traditionally, in Fujian, the white tea undergone long withering process and tea gave smoother mouth-feel. Unfortunately, nowadays the withering is lightly carried out in Fujian province on account of the market preference on fresh greener appearance of the tealeaf. The Fujian tea manufacturer shortens the withering time and tea becomes similar to green tea color with sharp greenish note. Anyhow, we wanted a little longer withering so as to make the taste exactly to our preference. Since it is the tailor made tea, We followed the traditional method of Fujian white tea process in the past. As a result, tea has softer and creamier mouth-feel.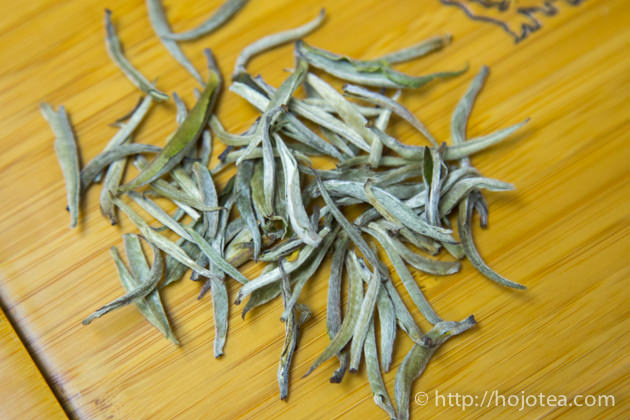 This tea can be enjoyed when it's freshly produced, or it is nice too after aging it for a few years. If tea is kept without oxygen, it will develop very sweet fruity flavor.
Uncertain production in future
Silver Needle is made of single tea bud. In Fujian province, a skilled tea plucker can only collects maximum 500g in a day. After processing and drying, we only get about 100g of tea. In Yunnan, they are not used to pluck the single tea bud which is very tedious and time-consuming. As a result, their plucking speed is even slower. Since they have suffered a lot in plucking the single bud, they appealed to me that they would not like to continue doing it again. So now I am worry whether or not we can continue this tea from 2017 onwards.
Related Articles
How to get the latest update on HOJO Tea?
1. Follow Twitter, 2. Click "Like" on Facebook, and 3. Subscribe in newsletter. You can have the latest tea news from HOJO Tea.
Subscribe the Newsletter to enjoy the privileges

You may receive a free sample upon purchase, or you may have the priority to purchase special products. So please remember to subscribe our newsletter as well as the social network.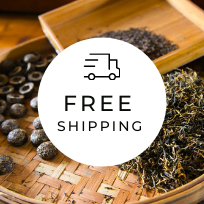 HOJO TEA Online Shop NEWS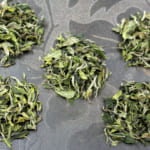 The ancient white tea is a very popular tea in our store. We produced this tea in spring. Following production, it was stored in an oxygen-free environment for several months to further enhance its flavor, achieving the expected maturation. The production of ancient tree white tea is limited in quantity per day, resulting in small …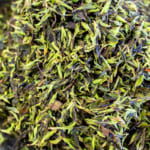 We have released the 2023 harvest of wild white tea from the Da Xue Shan. Fresh Green Colour of Leaves Achieved Through Custom Production Da Xue Shan's wild white tea is an incredibly rare type of white tea, and it's made from a unique plant called Camellia Taliensis that grows in the wild in the …
Shop Info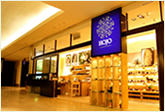 Address:Lot No. T-215, 3rd Floor, The Gardens Mall, Mid Valley City, Lingkaran Syed Putra, 59200 Kuala Lumpur
Tel: +603-2287-4537
Business Hour: 10am to 10pm
Category
Profile

AKIRA HOJO

I invite you to experience my tea selections.I was born in Nagano, Japan. In university, I studied agricultural chemistry, and I have the master degree in food science. I worked in Japanese food industry for 10 years. I involved in R&D, QC and QA. As a factory manager, I implemented ISO9000 series and managed the factory.
Media Release


We posted the article on "The Art of Tea Magazine No.9, the magazine is published in Taiwan. We featured some scientific view about the tetsubin

The Malaysian National Newspaper, New Straits Times featured HOJO Tea on 17-Oct-2007.