HOME >
New Arrival at HOJO Online Shop
New Release of Li Xiang Bai Mu Dan White Tea
[2018.01.17] Posted By Akira Hojo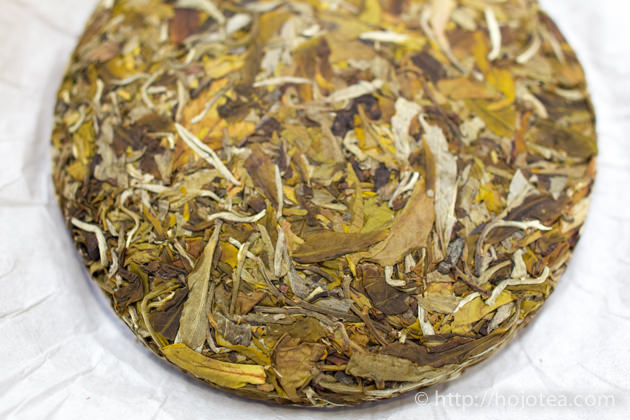 We released a new white tea, called Li Xiang Bai Mu Dan. The tea garden is located at high mountain that is about 2000-2200m. We carefully selected the garden that is free from any pesticides and fertilizers. Unlike the ordinary white tea produced in Yunnan province, for this white tea we implemented the Fujian production technique. As the result, this tea gives both floral and fruity note reminiscent of chestnut. The name Li Xiang in Chinese means chestnut flavor.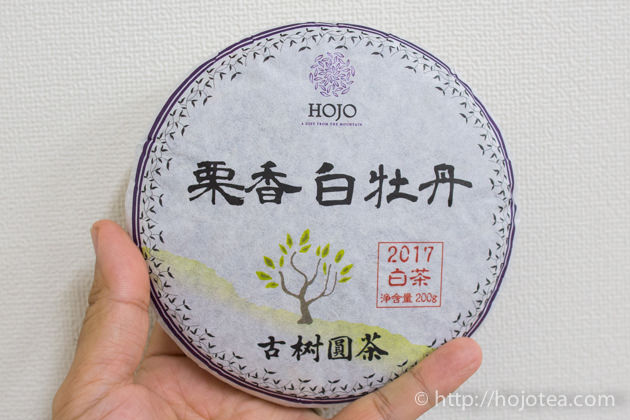 Good material is often spoiled by poor processing skills
Every year we stay in Yunnan province for a month. Our mission is to source tea from the gardens which are left in nature and using no fertilizer and no pesticide. In fact, this is the most traditional style that Yunnan people has ever practiced with their tea garden since ancient time. Nowadays, a lot of places are modernized and those traditional styles of tea garden is hardly found. Throughout many years of experience, we learned that the deeper, more remote and the higher the mountain we go, the better the quality of tea we can find. However, on the contrary, at those remote places the management of tea manufacturing generally gets worse. We sometimes come across the tea gardens that are located in ideal environment and has very excellent raw materials yet they are often screwed up due to the poor management in process. In addition, due to the limitation of their knowledge and lacks facilities, tea is only processed into pu-erh tea.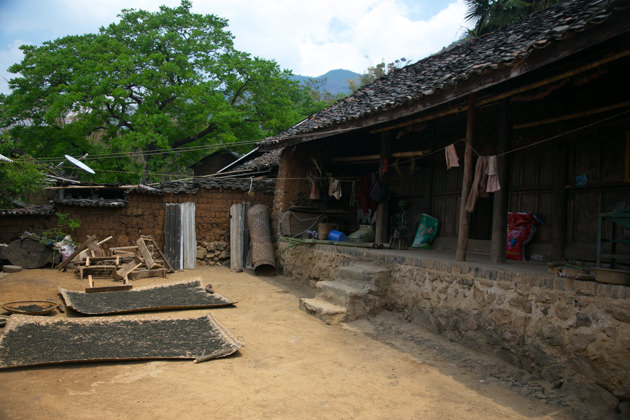 In rural village, their process is generally not very well managed.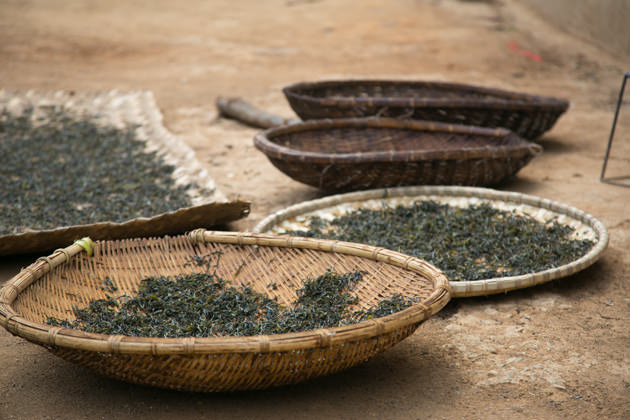 We carefully selected both tea and manufacture
Since 2014, we started the new practice. We stopped just buying tea from a manufacturer. We looked for manufacturer who owns a factory that equipped with proper facilities and possesses great production skill. Besides, we visited a number of villages and looked for the ideal tea garden. Once we confirmed which garden is ideal, we requested the manufacturer to go there with us and collect those specific materials directly from farmers. We stopped depending on neither the farmer to process the tea nor the manufacturer to source the raw material based on their own criteria. Instead, we selected both the specific tea gardens and manufacturer individually based on our quality criteria.
Thanks to this system, we are able to produce desirable type of tea with the ideal fresh materials.
Different process for making white tea between Fujian and Yunnan province
According to some literacy, white tea was the oldest tea ever produced in the past. Despite the history of white tea is more than 2000 years, in China there are very limited places produce white tea, such as Fujian, Yunnan and Anhui province. In Yunnan, their traditional process of white tea is either dry under the sun or natural drying after the indoor withering process. This is an ancient style of making white tea.
In Fujian, after shorter withering process than that of Yunnan, the white tea is dried with hot air at about 120 degree C. It is to completely inactivate enzymes to stop the fermentation.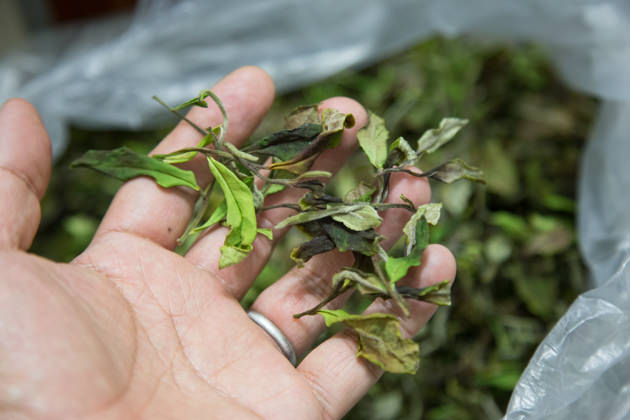 1.Traditional Process in Yunnan
Both withering and natural drying takes place simultaneously. Sometimes, sunshine drying is used once the moisture reaches below 20%.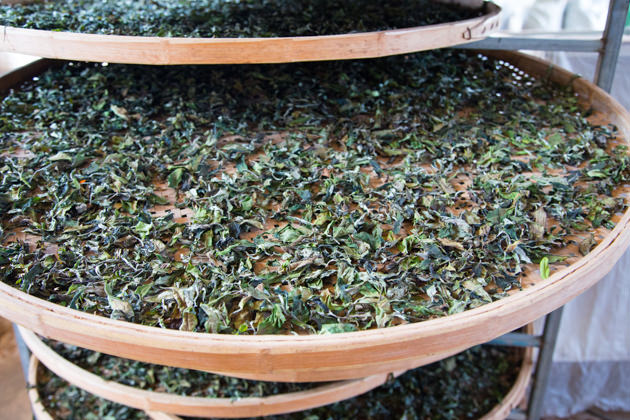 2.Process in Fujian
Withering → Inactivation of Enzyme at 120 degree C → Hot air drying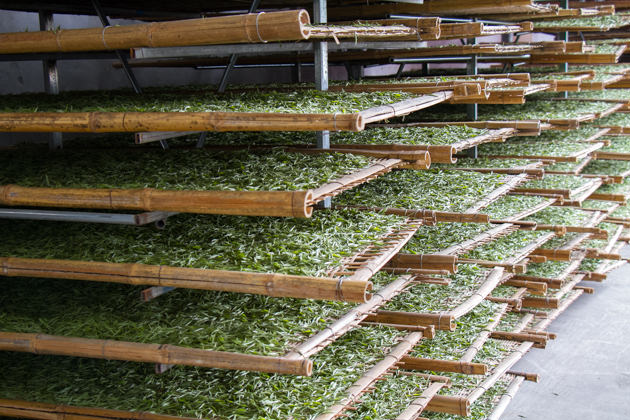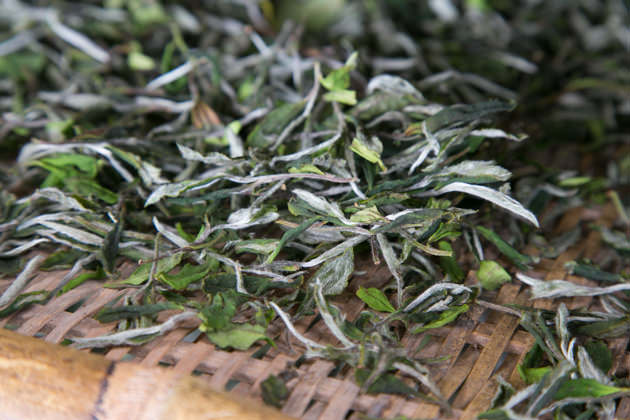 We inactivate the enzymes in order to get floral scent
In Yunnan, withering is equal to drying. Therefore, the withering process tends to be very long. It is very essential to conduct withering process during the season when moisture and temperature is low. The white tea made from this method gives fruity and floral aroma with a little muscatel flavor. After aging it for more than a few years, it develops strong sweetish fruity flavor, a little similar to black tea. The base flavor of white tea made with this style tends to be stronger.
On the other hand, with Fujian style, tea is heated at 120 degree C right after the withering process. This will completely halt the enzyme activity. As a result, tea gives very clean and clear drinking sensation, with floral and refreshing note that reminds us of Darjeeling First Flush, or like green tea. The effect after the aging is also different from the Yunnan style. It gives muscatel flavor and sweet fruity note like apricots.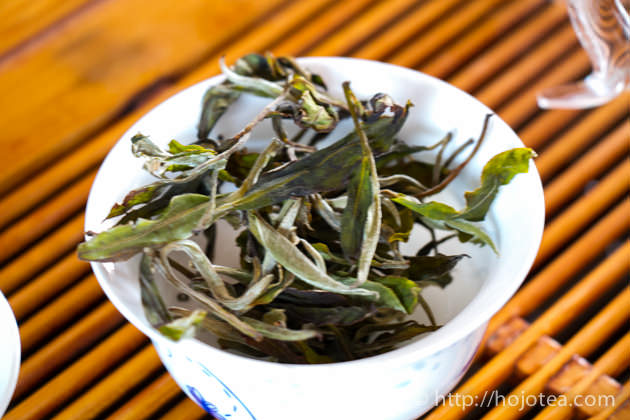 Li Xiang Bai Mu Dan mao-cha before compression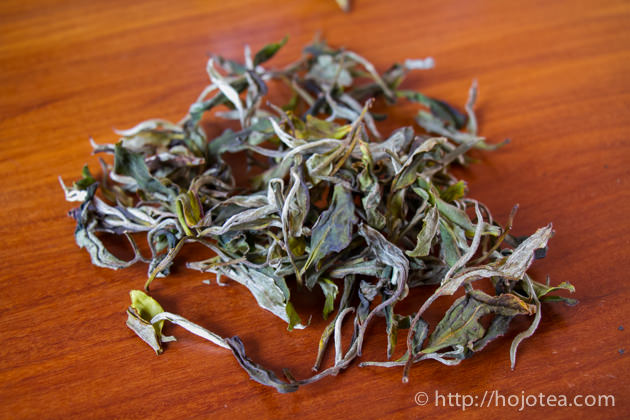 Fresh tea gives chestnut and fruity scent
Li Xiang Bai Mu Dan was made following Fujian processing method. When tea is fresh it gives sweet flavor like chestnut. It also reminds us of marigold, nectar or some people may think it is similar to Darjeeling First Flush. However, the major difference from Darjeeling First Flush is the quality of material. This white tea is made of tea grown completely without fertilizer. In fact, the garden is left wild in nature and without human care. Due to extremely slow growing speed, tea accumulated high content of tea substances and mineral. Hence, this tea gives very deep and strong aftertaste.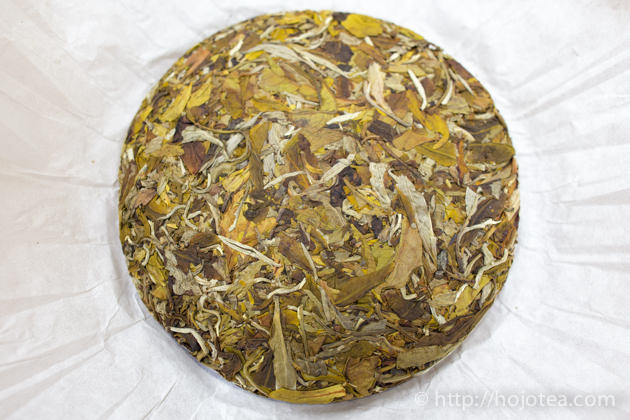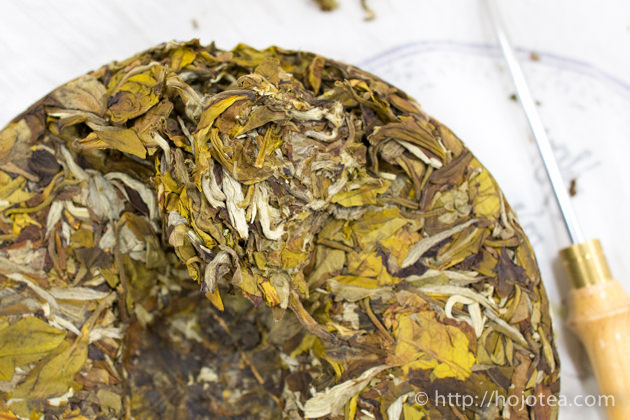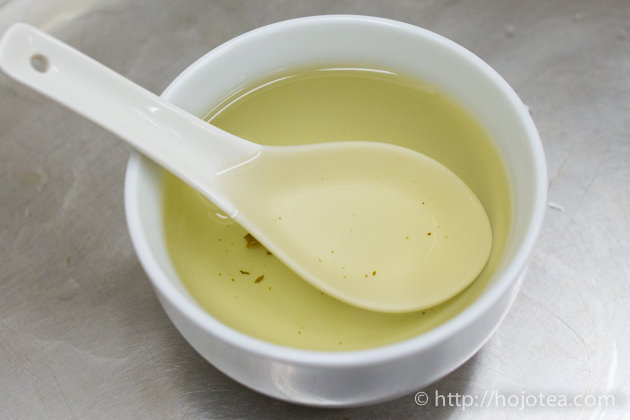 Aging of white tea
Recently, there is a trend in China to keep white tea for a long time for aging like pu-erh tea. In fact, white tea matures pretty much faster than pu-erh tea thanks to the light fermentation in the process. After the aging takes place, the chestnut flavor is replaced by floral note with sweetish fruity flavor. With further aging, we can expect the development of muscatel and apricot flavor. Of course, it is a very nice tea to drink when it is fresh. Nevertheless, we decided to compress it into 200g cake which is ideal if you wish to further age it.
Related Articles
How to get the latest update on HOJO Tea?
1. Follow Twitter, 2. Click "Like" on Facebook, and 3. Subscribe in newsletter. You can have the latest tea news from HOJO Tea.
Subscribe the Newsletter to enjoy the privileges

You may receive a free sample upon purchase, or you may have the priority to purchase special products. So please remember to subscribe our newsletter as well as the social network.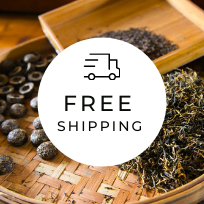 HOJO TEA Online Shop NEWS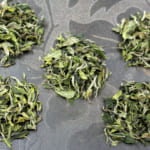 The ancient white tea is a very popular tea in our store. We produced this tea in spring. Following production, it was stored in an oxygen-free environment for several months to further enhance its flavor, achieving the expected maturation. The production of ancient tree white tea is limited in quantity per day, resulting in small …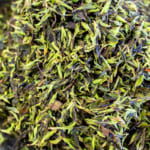 We have released the 2023 harvest of wild white tea from the Da Xue Shan. Fresh Green Colour of Leaves Achieved Through Custom Production Da Xue Shan's wild white tea is an incredibly rare type of white tea, and it's made from a unique plant called Camellia Taliensis that grows in the wild in the …
Shop Info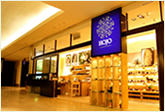 Address:Lot No. T-215, 3rd Floor, The Gardens Mall, Mid Valley City, Lingkaran Syed Putra, 59200 Kuala Lumpur
Tel: +603-2287-4537
Business Hour: 10am to 10pm
Category
Profile

AKIRA HOJO

I invite you to experience my tea selections.I was born in Nagano, Japan. In university, I studied agricultural chemistry, and I have the master degree in food science. I worked in Japanese food industry for 10 years. I involved in R&D, QC and QA. As a factory manager, I implemented ISO9000 series and managed the factory.
Media Release


We posted the article on "The Art of Tea Magazine No.9, the magazine is published in Taiwan. We featured some scientific view about the tetsubin

The Malaysian National Newspaper, New Straits Times featured HOJO Tea on 17-Oct-2007.