HOME >
How to choose quality tea
The Summary of Yunnan Spring Tea 2017
[2017.05.11] Posted By Akira Hojo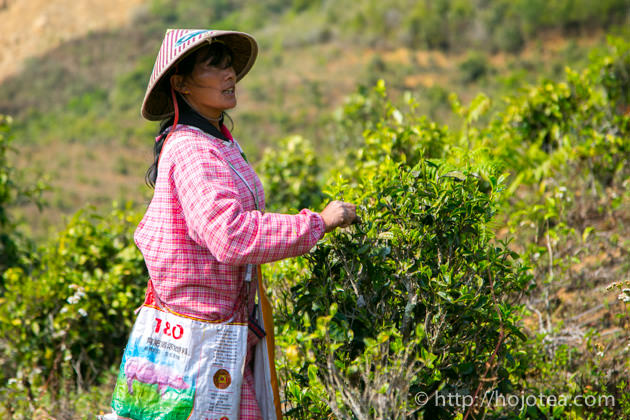 As the season of the first plucking is over, I would like to share my review on 2017 teas from the South West of Yunnan, such as Lincang, Bao Shan, Jing Gu, Chang Ning and Da Li area.
Usually, the most critical factor that affects the quality of tea is weather. Since the day I came to Yunnan on 21st of March, I have been recording the weather and closely monitoring the tea quality accordingly.
Early March〜31st March : Sunny and Cloudy
1st of April〜7th of April : Rain and Cloudy
8th of April〜14th of April:Sunny
14th of April〜 :Rain after Rain……..
The quality of Ming Qian(明前) tea is less attractive this year
Since the end of last year, it has been very dry weather in Yunnan. This unusual weather was not only taken place in Yunnan, but also happened in many other places in China and even Taiwan too.
Due to extremely little rain and continuous drought, the tea season delayed about 2-3 weeks. In normal year, starting from 25th of March, farmers in Lincang region start plucking tea. This year, we waited till April and we could hardly see the tea budding at the ideal garden. Those teas available before Qing Ming (清明) i.e., 4th of April, were collected from low elevation, very young tea tree or fertilized tea garden. Those teas from higher elevation, old tea tree and the naturally-farmed garden without fertilizer remained in very small bud; some trees were still dormant. As a result, tea plucked before April was not of good quality. Eventually we did not collect any tea before April, except Wild Tea that plucking season is always earlier than other tea.

Those young tea trees were available for plucking in early season.
The first week of April was raining
The rain started from 1st of April and continued for a whole week. The temperature dropped drastically and it was very cold. I had to wear the fleece jacket and run the heater when I stayed in the hotel room. Nevertheless, the rain at this timing was good news since tea trees had been suffered from drought for a long time. We assumed that it makes tea in excellent quality once the weather is sunny and temperature raise. The rain continued until 6th of April. From 7th of April, we noticed a lot of farmers effectively started tea plucking. We did not collect tea until the 9th of April. The reason is the quality of tea just after the rain is not ideal. Tea contains too high moisture and taste become thin and flavor is lighter. Those tea manufacturers who are very strict in quality will wait for two days after the rain to resume the tea plucking.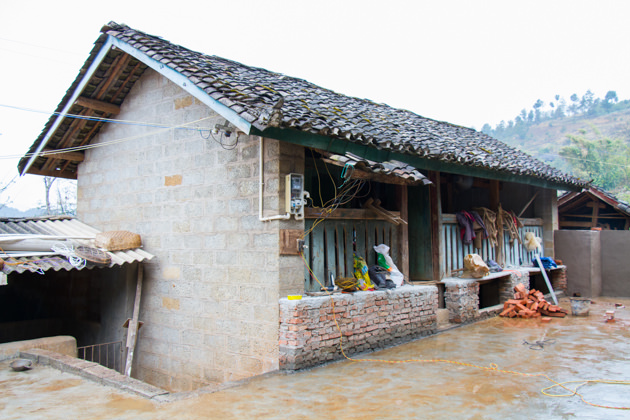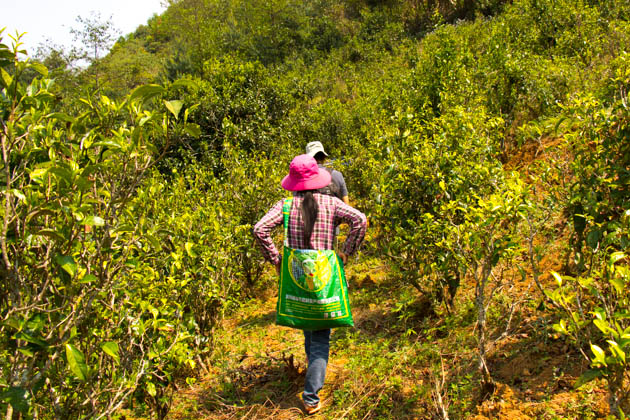 Only 30-50% of harvest
Unfortunately, the sunny weather only continues for a week. Despite people were so desperately waiting for the tea, the rain started again from 14th and continue. It was raining almost every day except certain places were sunny or cloudy on 23rd to 25th of April. Eventually raining continues until the end of April. Obviously farmers and tea manufacturers were panic due to extremely low output.
In Lincang, the production of tea is about 40-60% lower than regular year. In particular, teas from higher elevation, old tea tree and the naturally-farmed garden without fertilizer produce only 30-40% of output compared to regular year.
Due to extremely low output, the price of fresh tea leaf increases about 30-40%. For popular garden, the price increased 50% or even more.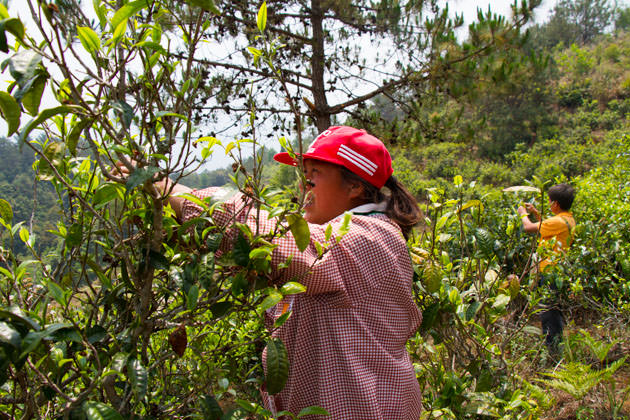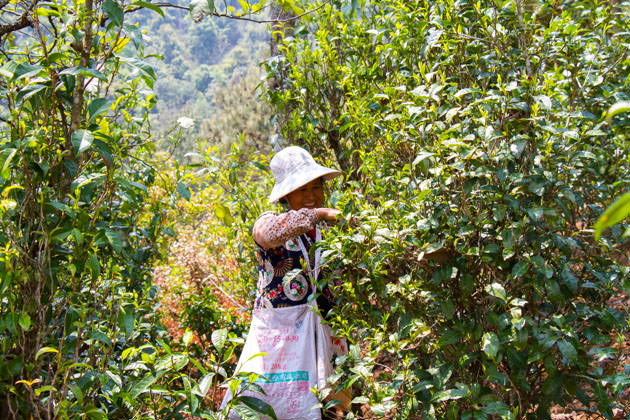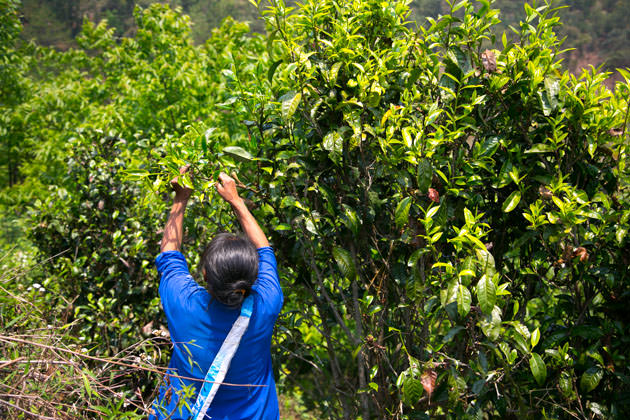 The best quality in the past 10 years
Due to the prolonged drought, the tea trees took much longer time to grow. I noticed that the quality of tea produced in the particular one week of sunny weather was extraordinarily outstanding. Most of the skilled and experienced tea masters generally realized that teas produced in this golden one week was the best quality in a past decade or even two decades. However, the good quality teas were only produced in a short period, i.e., from 9th until 13th of April. Any teas produced earlier or later are not satisfactory due to too much rain and cloudy weather. We purchased all pu-erh teas right from the golden week except for the wild tea that are usually grown earlier.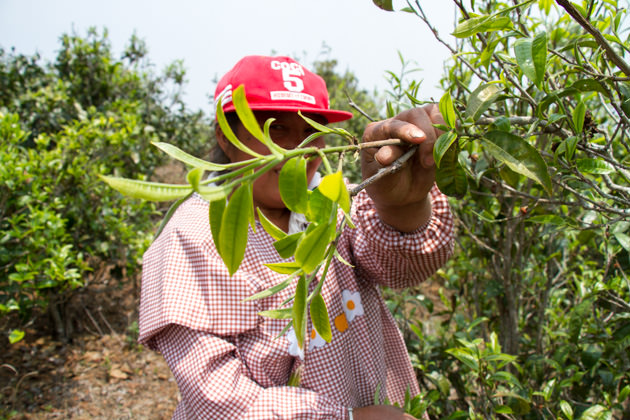 As the weather in the latter half of April was unexpectedly bad, those well-processed teas produced in the particular golden week were extremely limited and were in high demand. They were sold out even before out from the manufacturing site in the rural village. In 2017, some people may comment that the quality is outstanding, yet some people may comment that the quality is not very good. It is all depending on the timing and the sourcing ability of each company.
Related Articles
How to get the latest update on HOJO Tea?
1. Follow Twitter, 2. Click "Like" on Facebook, and 3. Subscribe in newsletter. You can have the latest tea news from HOJO Tea.
Subscribe the Newsletter to enjoy the privileges

You may receive a free sample upon purchase, or you may have the priority to purchase special products. So please remember to subscribe our newsletter as well as the social network.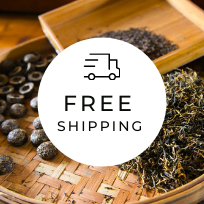 HOJO TEA Online Shop NEWS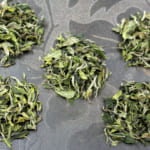 The ancient white tea is a very popular tea in our store. We produced this tea in spring. Following production, it was stored in an oxygen-free environment for several months to further enhance its flavor, achieving the expected maturation. The production of ancient tree white tea is limited in quantity per day, resulting in small …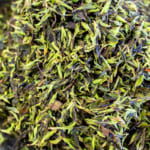 We have released the 2023 harvest of wild white tea from the Da Xue Shan. Fresh Green Colour of Leaves Achieved Through Custom Production Da Xue Shan's wild white tea is an incredibly rare type of white tea, and it's made from a unique plant called Camellia Taliensis that grows in the wild in the …
Shop Info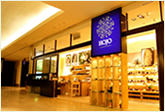 Address:Lot No. T-215, 3rd Floor, The Gardens Mall, Mid Valley City, Lingkaran Syed Putra, 59200 Kuala Lumpur
Tel: +603-2287-4537
Business Hour: 10am to 10pm
Category
Profile

AKIRA HOJO

I invite you to experience my tea selections.I was born in Nagano, Japan. In university, I studied agricultural chemistry, and I have the master degree in food science. I worked in Japanese food industry for 10 years. I involved in R&D, QC and QA. As a factory manager, I implemented ISO9000 series and managed the factory.
Media Release


We posted the article on "The Art of Tea Magazine No.9, the magazine is published in Taiwan. We featured some scientific view about the tetsubin

The Malaysian National Newspaper, New Straits Times featured HOJO Tea on 17-Oct-2007.