HOME >
How to choose quality tea
Limited and precious Ming Qian pu-erh tea in Lincang
[2013.04.20] Posted By Akira Hojo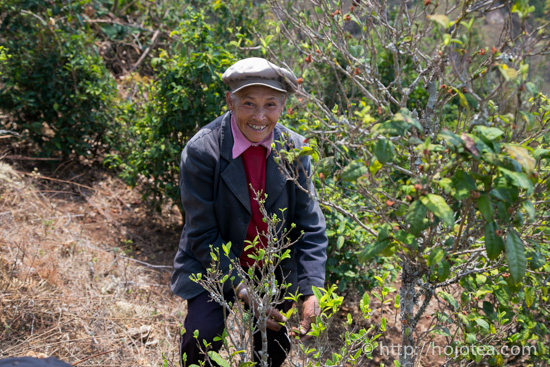 Qian Long Jing. In Chinese, Ming Qian means before Qing Ming (清明節, 4th of April). Although less people know, the word "Ming Qian" is also used for Pu-erh tea. Some people would think Ming Qian should not be associated with Pu-erh tea. In a way, it is YES but No. Regardless of whether the Ming Qian tea is meaningful depends on the tea area in Yunnan.
Ming Qian tea is less meaningful in Xishuanbanna
Yunnan province is very vast; its area is even bigger than Japan. In Xishuangbanna, the south Yunnan, the weather is sub-tropical climate, while in Lincang or Baoshan, the North West Yunnan, the weather is colder. In Xishuangbanna, due to the warm weather, tea-plucking began as early as February; sometimes it starts even in January. In Xishuangbanna, so-called Ming Qian tea is meaningless, because the tea-plucking period lasts for 2 to 3 months' time before Qing Ming. In other words, Ming Qian tea from Xishuangbanna does not mean it is the first-plucked tea in spring. When I visited Xishuangbanna area in the beginning of April, most of the spring tea season is over. In many areas, the tea trees have entered a period of dormancy.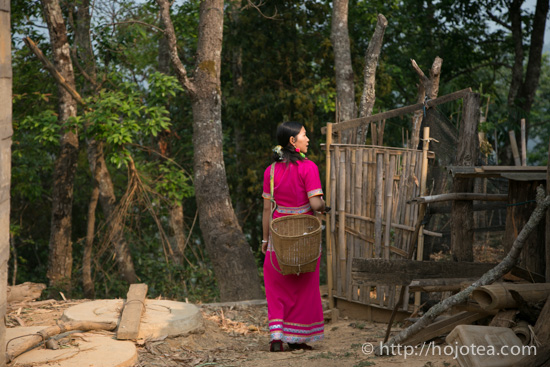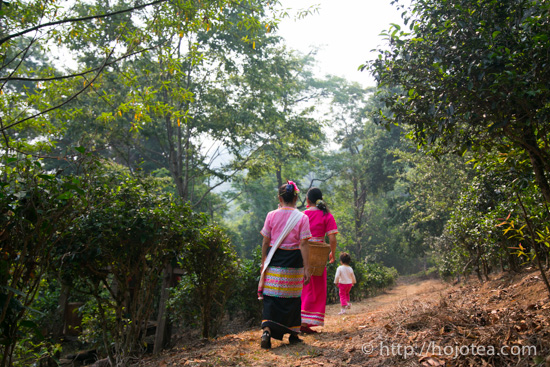 Ming Qian tea is very precious and limited in Lincang
On the contrary, in Lincang, Baoshan or Dali, the weather is very cold. Many tea gardens are located at about 2000m a.s.l. In these areas, tea plucking only starts around 20th of March. It is only two weeks' time before Qing Ming. Usually, Ming Qian refers to the first-plucked tea, and it is rich in taste and full-body. In Lincang area, manufacturer and farmer cherish the tea plucked before Qing Ming. Usually, Ming Qian tea has higher value and the supply is also very limited. Moreover, in the past few years, the persistent drought in Yunnan caused the Ming Qian tea production continues to reduce.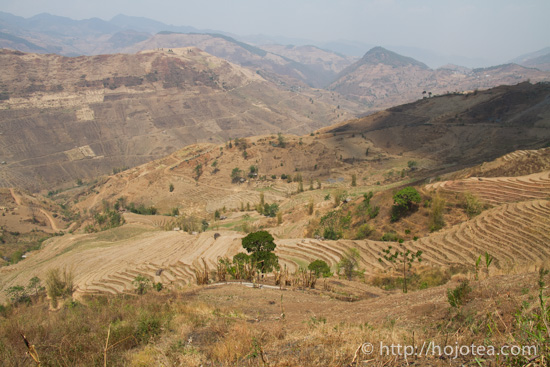 Based on my experience, it is not easy to obtain the Ming Qian tea, if we visit Lincang area at the end of April. The manufacturers often blend the Ming Qian tea with the tea plucked later in April in order to even out the price and quality. I visit Yunnan at the end of March, as I want to make sure that I am buying Ming Qian tea. Once you taste Ming Qian tea perhaps you could tell the difference. It is not bitter, less astringent and tea body is much stronger.
Related Articles
How to get the latest update on HOJO Tea?
1. Follow Twitter, 2. Click "Like" on Facebook, and 3. Subscribe in newsletter. You can have the latest tea news from HOJO Tea.
Subscribe the Newsletter to enjoy the privileges

You may receive a free sample upon purchase, or you may have the priority to purchase special products. So please remember to subscribe our newsletter as well as the social network.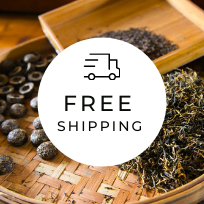 HOJO TEA Online Shop NEWS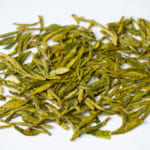 We have launched the 2023 harvest of Shi Feng Long Jing tea. Shi Feng Long Jing tea, also known as Shi Feng Dragon Well tea. It is one of the most famous and highly regarded teas in China.Shi Feng Long Jing tea is characterized by its flat, spear-shaped leaves that have a vibrant green colour. …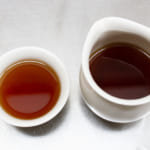 Instead of sourcing finished jasmine tea, we specialize in producing custom-made jasmine tea by bringing our carefully selected raw materials to jasmine factories. Over the years, we have created numerous unique jasmine tea varieties that are not available elsewhere, such as Pu-erh jasmine tea made from raw Pu-erh tea leaves, Jasmine Silver Needle made from …
Shop Info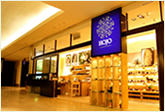 Address:Lot No. T-215, 3rd Floor, The Gardens Mall, Mid Valley City, Lingkaran Syed Putra, 59200 Kuala Lumpur
Tel: +603-2287-4537
Business Hour: 10am to 10pm
Category
Profile

AKIRA HOJO

I invite you to experience my tea selections.I was born in Nagano, Japan. In university, I studied agricultural chemistry, and I have the master degree in food science. I worked in Japanese food industry for 10 years. I involved in R&D, QC and QA. As a factory manager, I implemented ISO9000 series and managed the factory.
Media Release


We posted the article on "The Art of Tea Magazine No.9, the magazine is published in Taiwan. We featured some scientific view about the tetsubin

The Malaysian National Newspaper, New Straits Times featured HOJO Tea on 17-Oct-2007.