HOME >
New Arrival at HOJO Online Shop
2015 Wild Spring Bud Mao-Cha on Sale for a Limited Time
[2015.03.25] Posted By Akira Hojo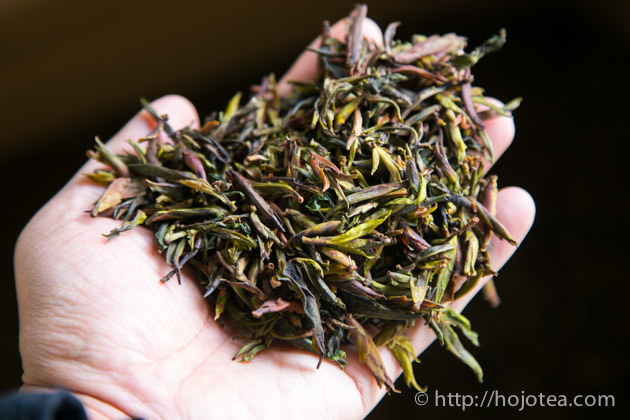 The first tea I have to search in Yunnan is Wild Spring Bud. It is the tea made of wild tea spieces called camellia taliensis. It gives distinctive flavour that reminds me of green apples, grapes or the fresh young tree barks.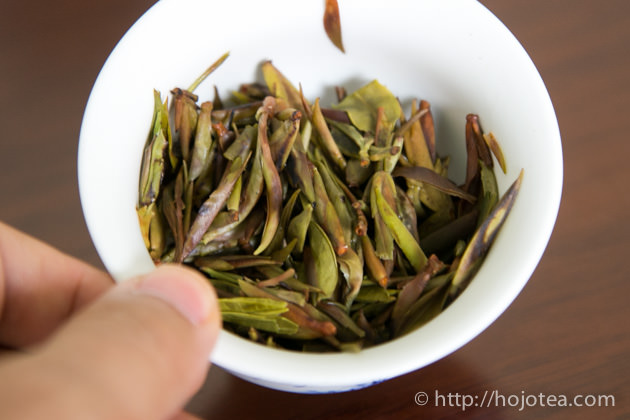 The earliest plucked tea is very precious
For us, it is very important to purchase the earliest-plucked tea. The flavour of tea may not be much different between the 1st and the 2nd plucked tea. However, the taste is distinctively different. The earliest plucked tea gives a creamy texture, smooth and silky mouth-feel and tea is very gentle and soft. The quality wild spring bud consists of various sizes and the bud is relatively bigger. It is because that the growing speed of the young buds on each wild tree or branch is not the same. Usually, the size becomes consistent when the same tea is plucked for the second time in the season.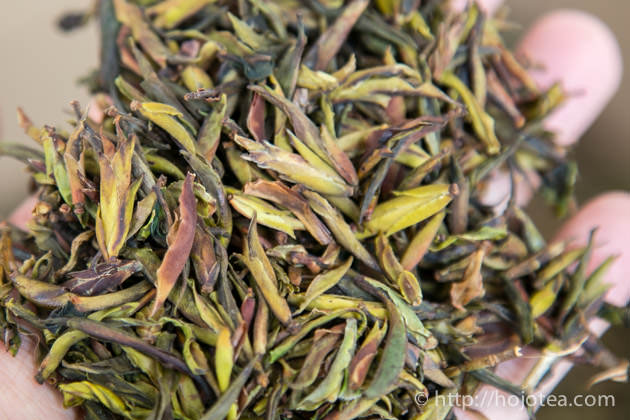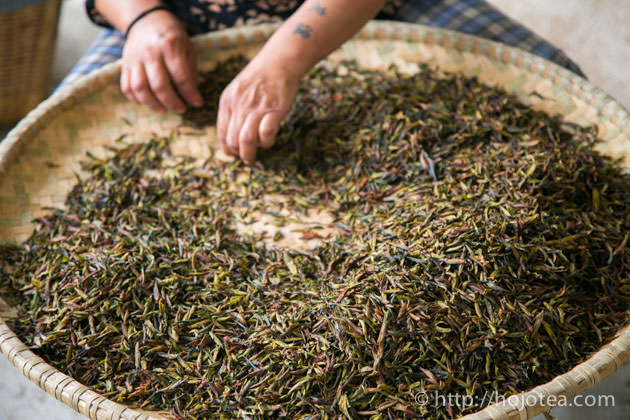 The first flush of the Wild Spring Bud is usually collected in the middle of March, while by the end of March the 2nd plucked wild spring bud is available. I have been in Yunnan since 20th of March just because I wanted to make sure I am able to secure the earliest plucked tea.
We secured the wild spring bud with right quality
Today we managed to purchase the ideal tea according to my desire. The tea is well-processed and it gives sweet distinctive flavour of wild tea. I am very satisfied with the result. We are planning to compress this tea into 200g cake. However, we decided to open for booking if you wish to purchase loose tea (mao-cha). The booking is opened only for a limited time. We are planning to send this tea for compression in early next week. The reservation of this tea is only available until the end of this week on 29th March. Please do contact our shop and send us e-mail if you wish to book the Wild Spring Bud mao-cha. The tea will be available to hand-over in May.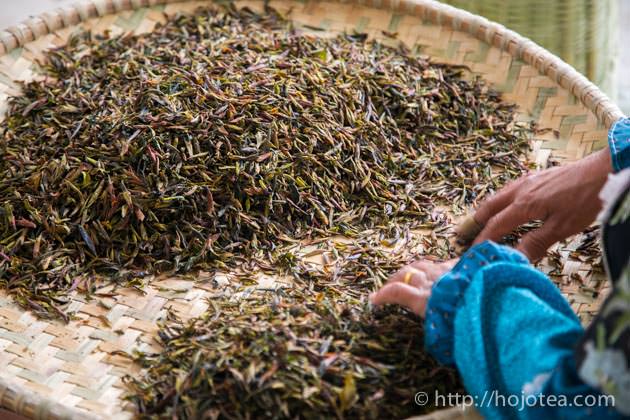 Reservation of the Mao-Cha is opened now for the limited period
Please contact us by e-mail or call up shop if you are interested to book 2015 wild spring bad mao-cha. The tea will be ready to hand-over in May.
RM210 for 200g packed in aluminum bag
If you purchase 5 bags, you will get one more bag free.
Related Articles
How to get the latest update on HOJO Tea?
1. Follow Twitter, 2. Click "Like" on Facebook, and 3. Subscribe in newsletter. You can have the latest tea news from HOJO Tea.
Subscribe the Newsletter to enjoy the privileges

You may receive a free sample upon purchase, or you may have the priority to purchase special products. So please remember to subscribe our newsletter as well as the social network.
HOJO TEA Online Shop NEWS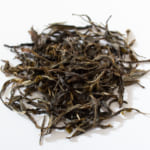 We have released Wu Jia Zhai Raw Pu-erh Tea. It is a Loose Tea (Mao-cha). This tea was made in 2018 and has been aged for nearly three years. Thanks to the aging, it has developed more distinctive flavour with sweet scent of sugar cane and dried fruits. Sustainable Tea Garden at high altitude of …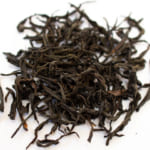 We have released very rare black tea, Tong Mu Shui Xian Black Tea. This tea is from Tong Mu Guan in Wuyishan, Fujian Province, China. The tea garden is located at 1000m above sea level, and the tea garden is totally sustainable, the tea trees are grown without pesticide and fertilizer. Tong Mu Shui Xian …
Shop Info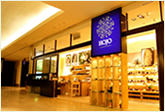 Address:Lot No. T-215, 3rd Floor, The Gardens Mall, Mid Valley City, Lingkaran Syed Putra, 59200 Kuala Lumpur
Tel: +603-2287-4537
Business Hour: 10am to 10pm
Category
Profile

AKIRA HOJO

I invite you to experience my tea selections.I was born in Nagano, Japan. In university, I studied agricultural chemistry, and I have the master degree in food science. I worked in Japanese food industry for 10 years. I involved in R&D, QC and QA. As a factory manager, I implemented ISO9000 series and managed the factory.
Media Release


We posted the article on "The Art of Tea Magazine No.9, the magazine is published in Taiwan. We featured some scientific view about the tetsubin

The Malaysian National Newspaper, New Straits Times featured HOJO Tea on 17-Oct-2007.