HOME >
New Arrival at HOJO Online Shop
2016 Wild Tea Mao-Cha on Sale for a Limited Time
[2016.04.11] Posted By Akira Hojo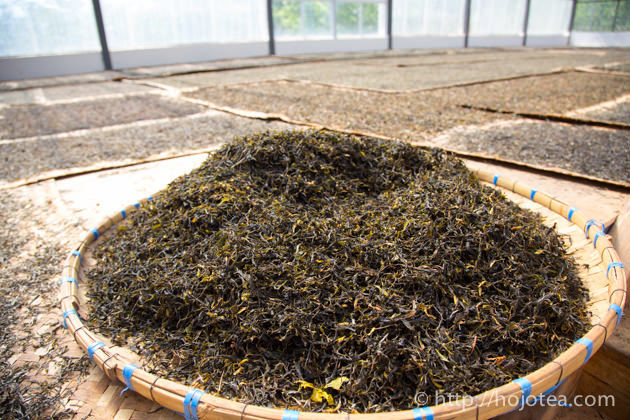 We have completed the sourcing of two wild teas from Da Xue Shan, the Wild Spring Bud and Wild Tea. These teas are produced from the wild tea tree grown in native forest of Yunnan, China. For now, we would like to open for the booking of these two Wild Tea mao-cha (loose tea). The booking of these two mao-cha is only available for a limited period. After this period, the mao-cha will be compressed into cake.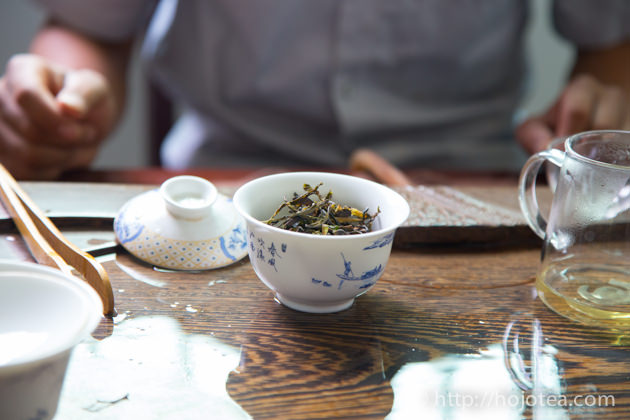 Da Xue Shan Wild Pu-erh Tea
Da Xue Shan wild tea is made of Camellia taliensis grown in native forest at the Da Xue Shan (Da Xue Mountain). Da Xue Shan is located across 3 counties: Yong De (永德), Shuang Jiang (双江) and Lin Cang (临沧). The material from Da Xue Shan is of very good quality thanks to the well-preserved environment of the native forest. Tea is plucked only once in spring by the local minority ethnics live at the root of Da Xue Shan. Due to the very remote distance, most of the fresh tea leaves collected from Da Xue Shan is directly processed by farmers at their own house kitchen. However, due to lack of appropriate facility and sophisticated technique in processing, most of tea being processed locally by farmers is giving a noticeably intense burnt flavor. Those inappropriately processed tea is darker in color and more fragmented. When it is brewed, tea liquor tends to be cloudy due to a lot of tea dust is generated as tealeaf was over-fired.
Back in year 2014, I had a very sour experience. We inspected the wild tea at manufacturer's place and ordered several cartons. However, the wild tea being shipped was mixed with burnt tealeaf and eventually I needed to fly back to Yunnan again and look for the alternative tea. After learning those experiences, we are no longer buying tea directly from local farmers. Instead, we spent time to look for tea manufacturer who has proper facility and accurate know-how in tea processing. We appoint the skilled tea master to process our wild teas. Since the Da Xue Shan wild tea is of outstanding quality, I truly wish to process it carefully and nicely even if we have to pay a little more for managing the process. We ask our tea manufacturer to travel a long way to collect the fresh wild tealeaf from the origin, and then bring it back and process with the proper facility under his supervision. In particular, the process of Da Xue Shan wild pu-erh tea was excellently carried out this year. I am very happy for the outcome.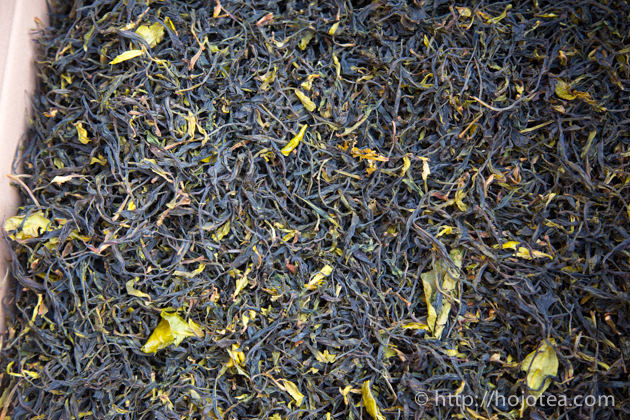 Honey-Muscat Flavor thanks to both good process and material
This year, due to the cold climate, the tea plucking season started about 10-14 days later than last year. As a result, the period to collect the fresh tealeaf has been prolonged. Usually, the older tea tree grows much slower than the younger tree. Due to the colder weather, the fresh tealeaf from older tree was available late in particular. We are very lucky since the price for the fresh leaf was slightly coming down when the material from the old tea tree was just ready. Eventually we managed to purchase the tealeaf from the older tea tree within our budget. You may notice that the color of wild tealeaf of this year is more yellowish than previous year. Thanks to the old tea tree, it gives extremely strong aftertaste. The flavor of 2016 Da Xue Shan Wild Tea is like raw honey with muscatel note. Its sweetish flavor lasts for a long time. In my experience, the tea from old wild tree is generally giving very clear sensation with a long-lasting sweetish flavor. Since the pan-frying process was very well-managed, the 2016 Da Xue Shan Wild Tea has a mild sweetish flavor reminiscent of fresh Phoenix Dan Cong oolong. If I just brew this tea without mentioning the name, many people may think it is an oolong tea.
The balance of pre-booking wild tea will be then compressed into cake as usual. If you prefer a faster aging process, I would suggest you to keep the compressed cake. The mao-cha also ages very well, although it is a little slower than the cake. The mao-cha remains its sweet honey-muscatel flavor even if it is aged.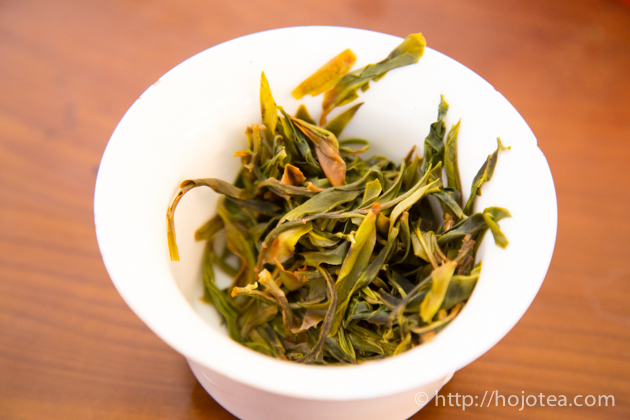 Wild Spring Bud
The plucking of wild spring bud usually starts in the mid of March. This year, the weather in Yunnan was very cold. As a result, the tea budding very slowly. In a day, only about 5-15kg of fresh tea buds was collected in the beginning stage. It becomes 1/4 of the weight of fresh tealeaf once it is processed into dry tealeaf. In other words, only about 1-4kg of Wild Spring Bud was produced per day. Due to extremely slow growing status, I was very frustrated. Despite we kept calling the tea manufacturer to check how much quantity they produced, yet their answer was always "very little". But, eventually the slow growing speed was the good news. The slow growing status makes tea very sweet thanks to richer constituents and minerals. It gives sweet flavor like grapes with a hint of young tree bark note; it actually reminds me of spring herbs. I suggest keeping this tea for a few months more so that the flavor will be more intense. This tea is also suitable for the long term storage. With proper storage, tea is giving fruity flavor like honeyed-apricot or dried figs. After the pre-booking, the balance quantity of Wild Spring Bud mao cha will be compressed into 200g cake.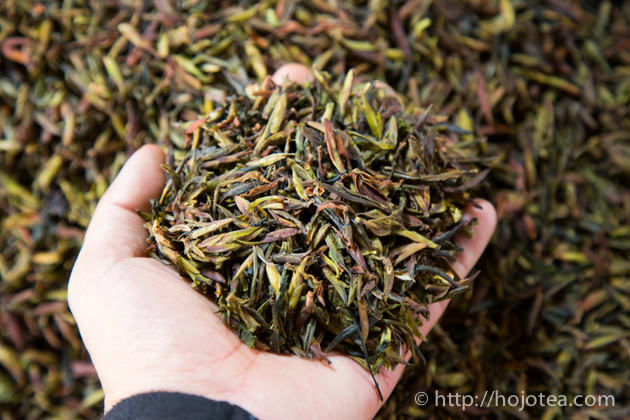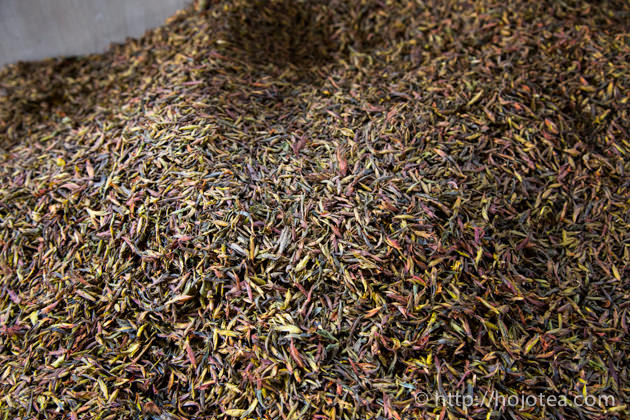 Pre-booking of Mao-cha for the limited period
We only accept pre-booking of mao-cha (loose tea) for a week until 18th of April. The product will be delivered in May to June. If balance quantity is remained, it will be compressed and sold as standard lineup of HOJO.
Based on our experience, the compressed tea could be matured faster than mao-cha. In a few years time, it develops sweet fruity flavor, and after tea is kept longer, it has dried fruity note. Nevertheless, mao-cha also aged pretty well. Although mao-cha is not matured as fast as compressed cake, the mao-cha remains sweet muscatel-honey flavor even after the aging process. The flavor of aged mao-cha is very gorgeous since it gives both matured fruity flavor and muscatel flavor. Please make sure to keep the tea package without opening it. Once the bag is opened, the maturation will be accelerated. However, it may develop musty flavor. Thus, it is necessary to keep tea without oxygen in order to develop the sweet flavor.
Please do contact our shop and send us e-mail if you wish to book these mao-cha.
Da Xue Shan Wild Pu-erh Tea 2016 Mao-Cha/Loose tea
200g (100g bag x 2)    RM188
600g    (100g bag x 6)    RM540
Wild Spring Bud 2016 Mao-Cha/Loose tea
200g (100g bag x 2)     RM230
600g    (100g bag x 6)     RM650
If you purchase 5 bags, you will get one more bag free.
Related Articles
How to get the latest update on HOJO Tea?
1. Follow Twitter, 2. Click "Like" on Facebook, and 3. Subscribe in newsletter. You can have the latest tea news from HOJO Tea.
Subscribe the Newsletter to enjoy the privileges

You may receive a free sample upon purchase, or you may have the priority to purchase special products. So please remember to subscribe our newsletter as well as the social network.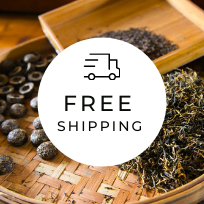 HOJO TEA Online Shop NEWS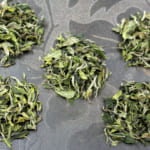 The ancient white tea is a very popular tea in our store. We produced this tea in spring. Following production, it was stored in an oxygen-free environment for several months to further enhance its flavor, achieving the expected maturation. The production of ancient tree white tea is limited in quantity per day, resulting in small …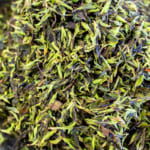 We have released the 2023 harvest of wild white tea from the Da Xue Shan. Fresh Green Colour of Leaves Achieved Through Custom Production Da Xue Shan's wild white tea is an incredibly rare type of white tea, and it's made from a unique plant called Camellia Taliensis that grows in the wild in the …
Shop Info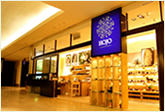 Address:Lot No. T-215, 3rd Floor, The Gardens Mall, Mid Valley City, Lingkaran Syed Putra, 59200 Kuala Lumpur
Tel: +603-2287-4537
Business Hour: 10am to 10pm
Category
Profile

AKIRA HOJO

I invite you to experience my tea selections.I was born in Nagano, Japan. In university, I studied agricultural chemistry, and I have the master degree in food science. I worked in Japanese food industry for 10 years. I involved in R&D, QC and QA. As a factory manager, I implemented ISO9000 series and managed the factory.
Media Release


We posted the article on "The Art of Tea Magazine No.9, the magazine is published in Taiwan. We featured some scientific view about the tetsubin

The Malaysian National Newspaper, New Straits Times featured HOJO Tea on 17-Oct-2007.