HOME >
New Arrival at HOJO Online Shop
Tea made only from White Tea Trees
[2016.04.22] Posted By Akira Hojo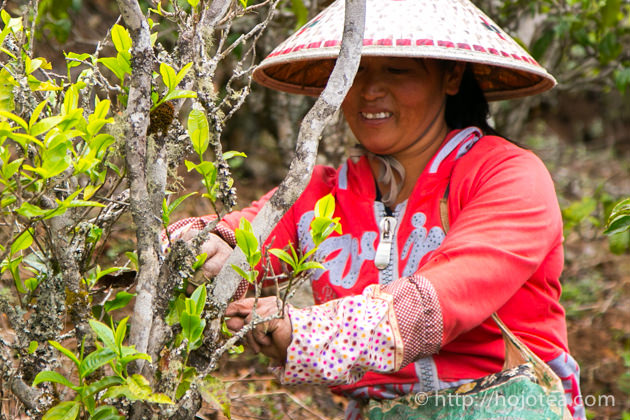 I have always been dreaming of making tea from a specific type of tea tree. I wish to collect the tea leaves from the tea tree that I personally selected and process it. This is half my hobby and half experimental based project. Throughout the years of my tea expedition in Yunnan,  I met a tea manufacturer who could support my idea. I personally collect the fresh tea leaves and ask a reliable manufacturer to process it. Tea tree that I was interested was "White Tea Bush". Out of natural farming tea garden, some tea trees becomes very white if they are grown under strong sun light and non-fertilized soil.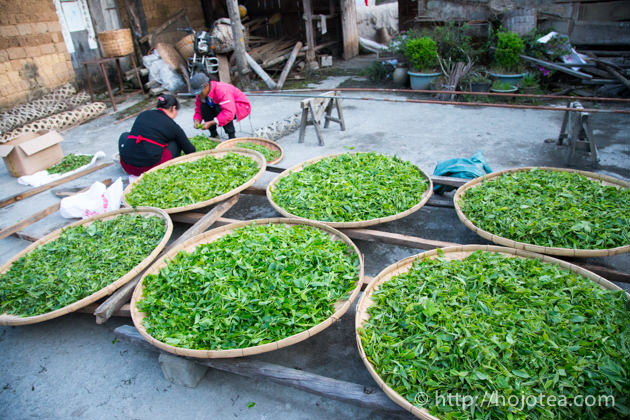 Very shabby white tea tree
If tea tree is without applying fertilizer, due to nitrogen deficiency it grows very slowly. As a result of slower growing speed, the plant also tries to reduce the overall photosynthesis. Under the circumstances, there is a very interesting phenomenon. Some of tree branches naturally dry out, and the number of tealeaf is reduced. Those tea trees show a very noticeable characteristic. The tree bark turns very white, like white birch tree. Interestingly, once the fertilizer is re-applied, the white tree becomes brown color again. Comparatively, those "white tea trees" have very less branches and leaves. Generally people may think it is very unhealthy tree or the tree that is dying. However, the tealeaf from this white tree is very sweet. It is not only sweet, but also giving a very clear and refreshing aftertaste. The tealeaf from the white-tea tree does not give bitter or astringent taste that normal tea does. Perhaps the tealeaf grown under harsh environment becomes very rich in content.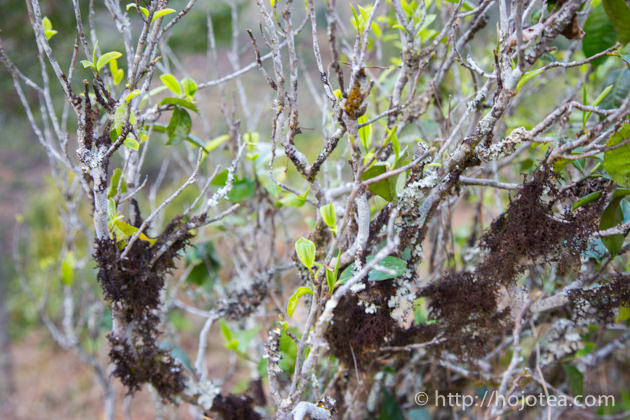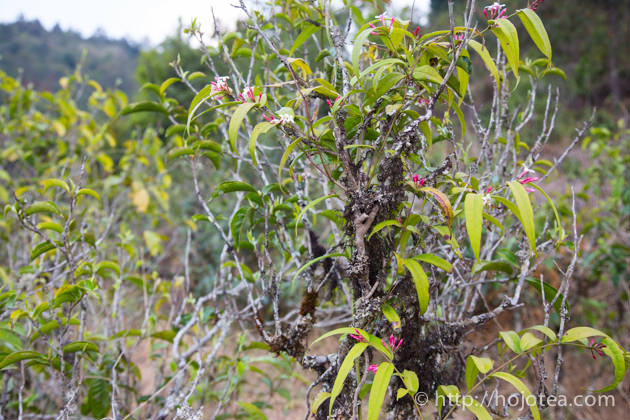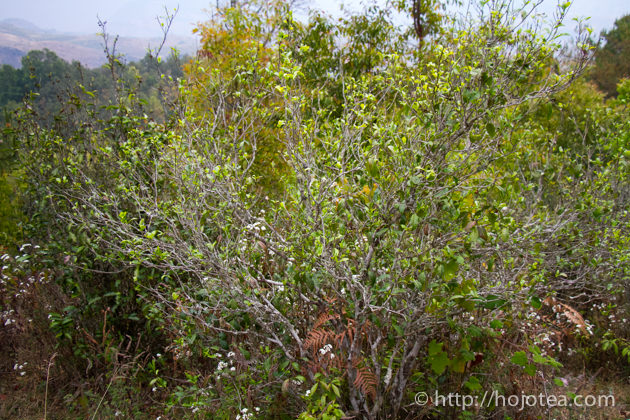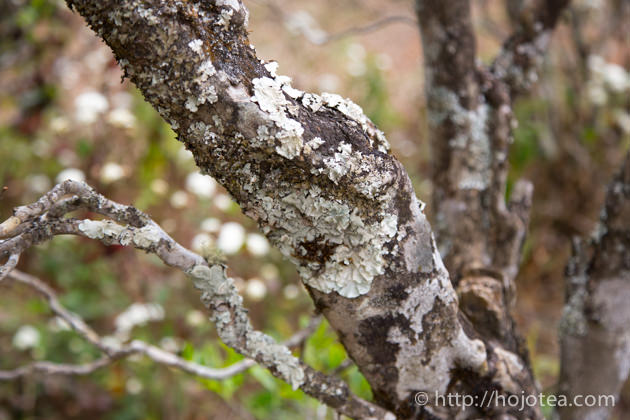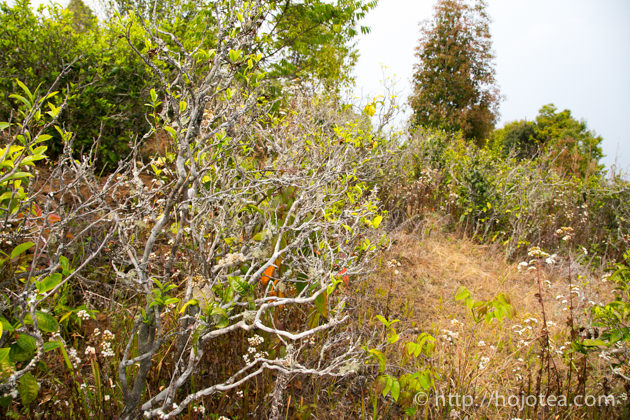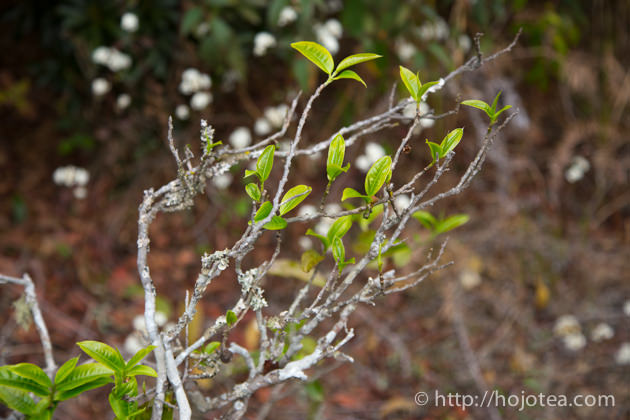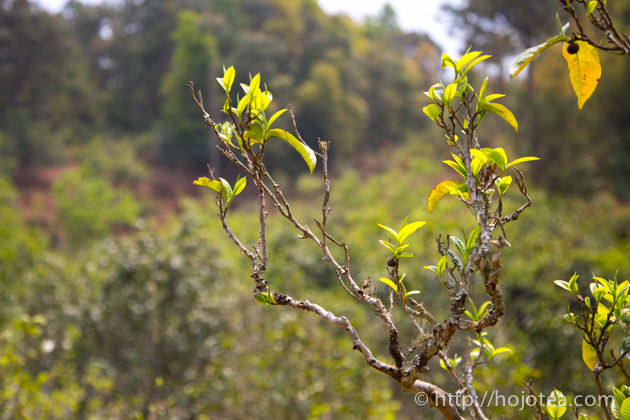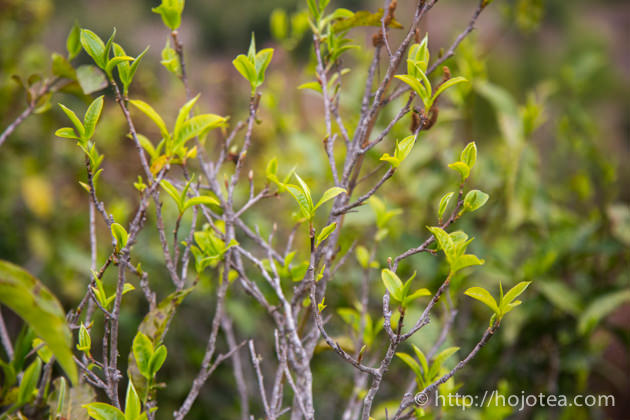 Our standard pu-erh tea is collected from the entire natural farming garden
I have been always interested in collecting only the specific type of tea leaves. My standard pu-erh teas are collected from natural farming garden too. However, usually the tea garden covers wide area and tea trees scatter everywhere. Somehow there are a variety of tea tree. Some of trees are grown under shade, some are directly expose to sunshine, some are very old trees and due to unknown factors some of them grow faster. The taste of tea grown under direct sun light and under shade is somehow different. When tea leaves are gathered from entire gardens and processed together, the taste of tea is homogenized. In fact, it is very important. For my standard pu-erh tea, I would like to achieve both clear and creamy taste.
The following photos show the common tea tree that bark is brownish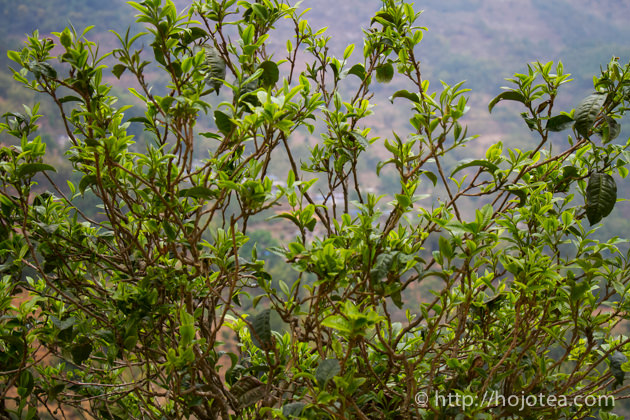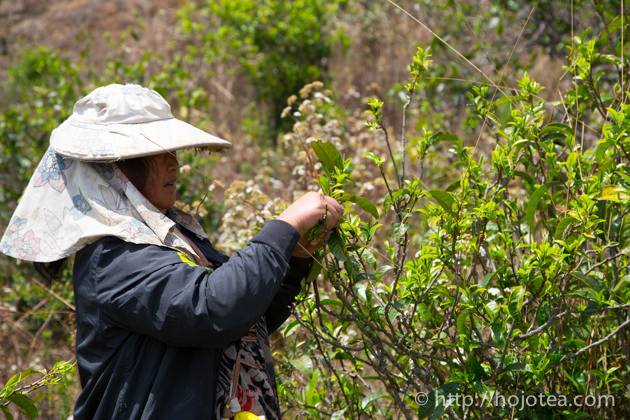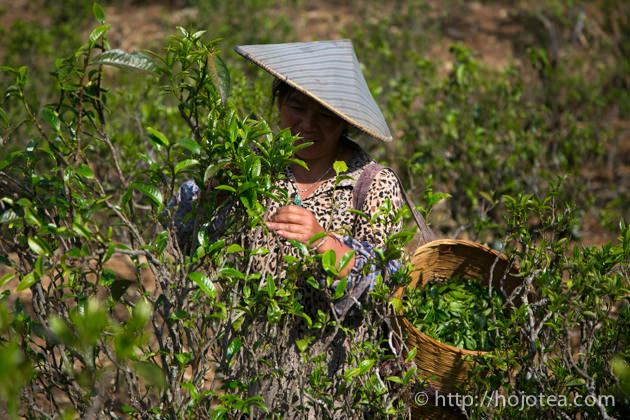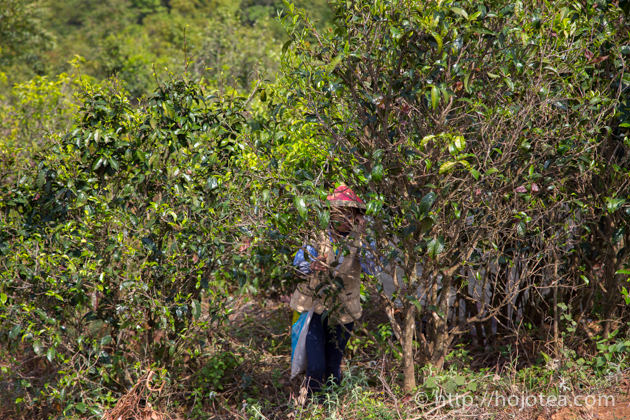 We look for the professional fresh tealeaf collector
This year, I wanted to produce tea collected only from the white tea tree grown under direct sun light. I am interested in making tea with a distinct characteristic. For achieving my desire, I had to selectively collect tea leaves from specific tea tree with very white tree bark. There are two ways for us to collect the fresh tea leaves. If we directly deal with farmer who owns the gardens, it is much cheaper. However, this method does not produce good outcome. In general, farmers pluck the fresh tealeaf and sell it to the tea manufacturer. Their earning comes from the total weight of tealeaf they collected in a day. In other words the more tealeaves the more earning, hence the plucking is very random. Eventually farmers tend to pluck tealeaf that does not meet our requirements. As we wish to collect the specific kind of tea leaf, we appoint professional fresh tealeaf collector. They live in the village, truly understood the tea trees condition and they are very good in management. They will follow the requirement of their client and educate the farmer to pluck according to the specification. I have asked help from my pu-erh tea manufacturer to introduce a reliable fresh tealeaf collector. She was indeed very competent and worked very hard to collect the tea from the white tea trees.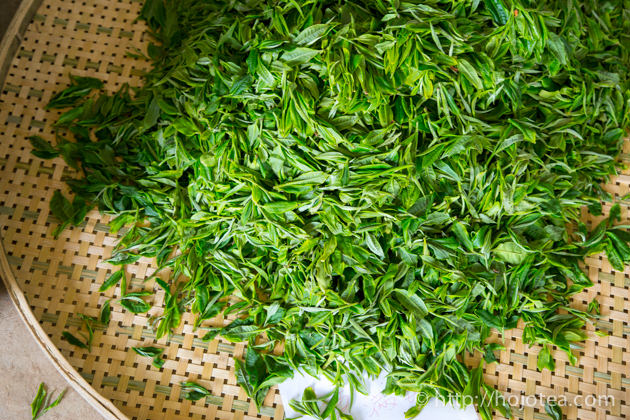 We selected tea gardens in Da Shan, a village located in Young De county of Lincang.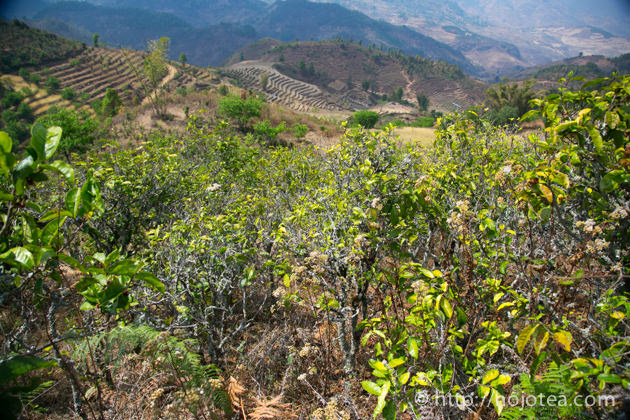 Fascinating level of muscatel flavor
After spending some time surveying around, I have selected an ideal natural tea garden. The tea garden is left unattended for some time, surrounded by weeds and wild natural plants. The natural ecology is well-maintained and not disturbed by modern agriculture activities. After understanding the characteristic of tea from white tea tree, we decided to process into both raw pu-erh tea and black tea. Usually that extremely ecological tea gives a very intense muscatel flavor when it is either fermented or matured. I could foresee the black tea produced from this white tree will gives an excellent level of sweet muscatel flavor and clear drinking feeling. The black tea we processed from those white tea trees will be introduced as the successor of Yunnan Muscatel Black Tea.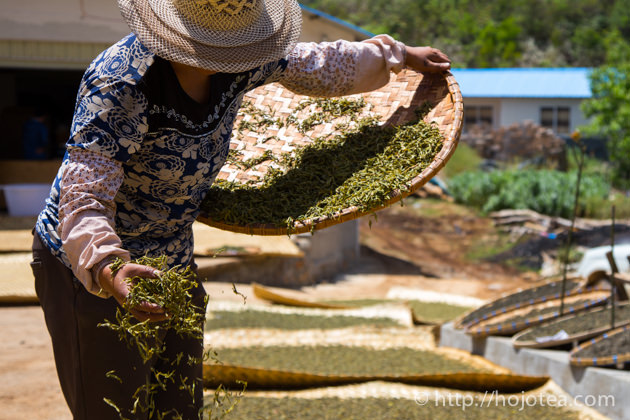 We only managed to produce about 30kg
When we kicked off this project, the collection of tea leaves was not progress very smoothly. Due to very stringent specification requested by us, it eventually takes much longer time to gather the tea leaves. Usually, if one wants to produce 10kg of tea, we need to gather about 40-50kg of fresh tealeaf. Initially I wanted to produce 50kg of raw pu-erh tea. So we needed at least 200kg of fresh tealeaf. However, after running the project for one week, we only managed to produce about to 30kg of raw pu-erh tea. When time passed-by, tealeaf grows bigger and becomes more matured. Since I do not want the over-grown tealeaf, I have no choice but to stop the collection of fresh tealeaf. After we share 30kg among Japan, Malaysia and oversea market, we could only allocate about 10kg for each place. Since the quantity is limited, we decided to sell it in mao-cha (loose tea) form and we will sell it with pre-booking. Since this tea is collected only from the white tea trees, we named it as Bai Shu Raw Pu-erh (白树生茶). It means White Bush Raw Pu-erh Tea in Chinese. The pre-booking of Bai Shu Raw Pu-erh mao cha will be available in few days time.
Related Articles
How to get the latest update on HOJO Tea?
1. Follow Twitter, 2. Click "Like" on Facebook, and 3. Subscribe in newsletter. You can have the latest tea news from HOJO Tea.
Subscribe the Newsletter to enjoy the privileges

You may receive a free sample upon purchase, or you may have the priority to purchase special products. So please remember to subscribe our newsletter as well as the social network.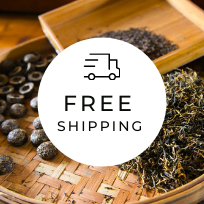 HOJO TEA Online Shop NEWS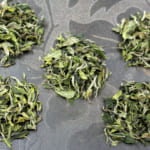 The ancient white tea is a very popular tea in our store. We produced this tea in spring. Following production, it was stored in an oxygen-free environment for several months to further enhance its flavor, achieving the expected maturation. The production of ancient tree white tea is limited in quantity per day, resulting in small …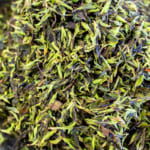 We have released the 2023 harvest of wild white tea from the Da Xue Shan. Fresh Green Colour of Leaves Achieved Through Custom Production Da Xue Shan's wild white tea is an incredibly rare type of white tea, and it's made from a unique plant called Camellia Taliensis that grows in the wild in the …
Shop Info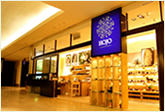 Address:Lot No. T-215, 3rd Floor, The Gardens Mall, Mid Valley City, Lingkaran Syed Putra, 59200 Kuala Lumpur
Tel: +603-2287-4537
Business Hour: 10am to 10pm
Category
Profile

AKIRA HOJO

I invite you to experience my tea selections.I was born in Nagano, Japan. In university, I studied agricultural chemistry, and I have the master degree in food science. I worked in Japanese food industry for 10 years. I involved in R&D, QC and QA. As a factory manager, I implemented ISO9000 series and managed the factory.
Media Release


We posted the article on "The Art of Tea Magazine No.9, the magazine is published in Taiwan. We featured some scientific view about the tetsubin

The Malaysian National Newspaper, New Straits Times featured HOJO Tea on 17-Oct-2007.