Video: Pan-frying Process of Pu-erh Tea
[2013.07.26] Posted By Akira Hojo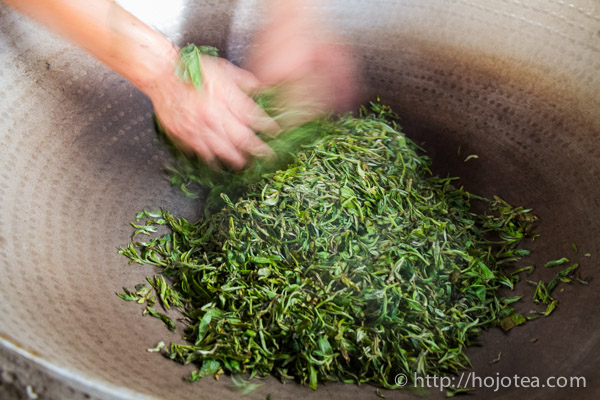 I made a video showing the pan-frying process of pu-erh tea. It was recorded this year when I visited Yunnan in April. This is the manufacturer who produced one of our raw pu-erh tea lineups : Mang Qing 芒慶.
Raw pu-erh tea is a fermented tea
The purpose of frying the tea leaves is to inactivate the enzyme. If tea is processed without frying, it could turn out to be black tea due to the excessive fermentation. The process of making pu-erh tea is the same as that of making Chinese green tea, up til the stage of rolling process. Some people often say that the raw pu-erh tea is just as same as green tea. In fact, raw pu-erh tea is not like a green tea. These 2 teas are different. Green tea is dried immediately after the rolling process. Regardless of whether there is any enzyme survived in pan-frying process, there is no time for the enzyme to be activated for fermentation. As for pu-erh tea, it is dried under the sun-shine. It usually takes a whole day for drying the tea leaves. During the drying process, temperature and moisture level is just optimum for the enzymatic fermentation. Unlike the steaming process for making Japanese green tea, the pan-frying process does not inactivate 100% of enzyme inside the tea leaves. The minor portion of the remaining enzyme will continue to contribute in the fermentation during sun drying process.
The quality of frying-pan is critical
The frying-pan used in this video is considered as a type of modern design, and the quality is good. Somehow the frying equipment is very important factor that could affect the flavor of tea. We often see ignorant farmers using very simple set up in their frying equipment. If the frying-pan is too small or too thin, it could burn the tealeaves and gives the tea burnt flavor.
High temperature used for frying tea leaves
Can you imagine how high the temperature can go up to when frying tea leaves? Some of you may think that tea leaves ought to be gently fried. Most of us who witnessed a pan-frying process for the first time would be surprised. The frying temperature is actually very high. During frying process, the fried leaves makes loud sizzling and popping sounds while the steam rises up. The tea leaves were fried very intensively, much more intensive than we could imagine. The frying process continues until the stem of tea became elastic.
Related Articles
How to get the latest update on HOJO Tea?
1. Follow Twitter, 2. Click "Like" on Facebook, and 3. Subscribe in newsletter. You can have the latest tea news from HOJO Tea.
Subscribe the Newsletter to enjoy the privileges

You may receive a free sample upon purchase, or you may have the priority to purchase special products. So please remember to subscribe our newsletter as well as the social network.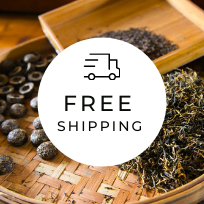 HOJO TEA Online Shop NEWS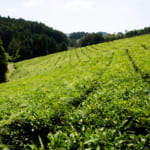 Tsuge Zairai Sencha 都祁在来煎茶 is made from "zairai" tea plucked in spring, from the naturally farmed tea garden located in Tsuge, Nara City, Nara Prefecture. The tea garden of Tsuge Zairai Sencha is maintained in sustainable manner applying neither pesticide nor fertilizer. Tsuge Zairai Sencha has a subtle and refreshing floral scent with a hint …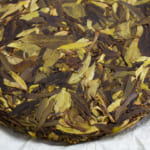 Da Xue Shan Wild White Tea 2021 is available now. This tea is always very popular in our shop. In Japan, we brought in loose tea this year, and for Malaysia we produced 200g cake. Mao cha before compressing into cake Very limited resources This tea is made from the wild tea, called Camelia taliensis. …
Shop Info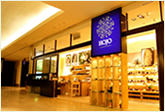 Address:Lot No. T-215, 3rd Floor, The Gardens Mall, Mid Valley City, Lingkaran Syed Putra, 59200 Kuala Lumpur
Tel: +603-2287-4537
Business Hour: 10am to 10pm
Category
Profile

AKIRA HOJO

I invite you to experience my tea selections.I was born in Nagano, Japan. In university, I studied agricultural chemistry, and I have the master degree in food science. I worked in Japanese food industry for 10 years. I involved in R&D, QC and QA. As a factory manager, I implemented ISO9000 series and managed the factory.
Media Release


We posted the article on "The Art of Tea Magazine No.9, the magazine is published in Taiwan. We featured some scientific view about the tetsubin

The Malaysian National Newspaper, New Straits Times featured HOJO Tea on 17-Oct-2007.