The simple reason why some pu-erh teas has smoky flavor.
[2013.03.22] Posted By Akira Hojo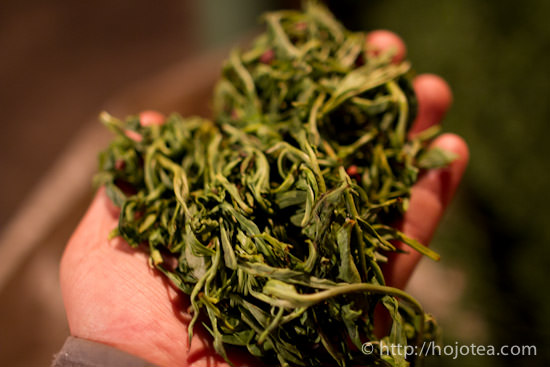 Smoke Gets into Your Tea – Debunk the Smoky Tea Myth
Fresh plucked raw pu-erh tealeaves are usually processed through pan-frying. Traditional pan-frying processing would make the smoke gets into the tea. Some tea farmers, especially the minorities who live in the mountains in Yunnan tend to use primitive type of pan-frying method. They set the wood fire under a big frying pan. This is a common practice among minority villages in Yunnan. When processing the tea, smoke released from the burning wood will rise up and circulate in the air. Tea processed in such primitive method will likely to have smoky flavor. Unfortunately, the value of tea decreases significantly if tea gets smoky flavor.
Price for high quality tea becomes very reasonable when it gets smoky
If tea has smoky flavor, I am reluctant to purchase it. However, if the tea is made of extraordinary good quality material, even if it is smoky, I would still consider buying it because the selling price is very low due to its smokiness. For example, our Xiu Lin Wu Hao raw pu-erh and Xian Su Shan raw pu-erh are this type of smoky good tea. Both are made of very high quality material, yet their price is very low because of the smoky flavor. For those who know how to taste tea, and would not mind its slight smokiness, Xiu Lin and Xian Su Shan are good buys. Some of my customers even love these smoky tea, they find that this kind of smokiness is similar to the character of Scotch Whisky.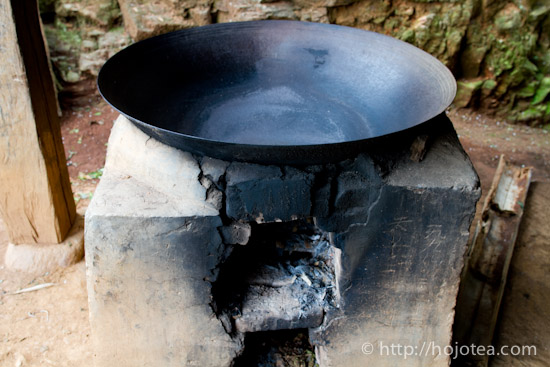 The most primitive type of frying pan still commonly used by the minority farmers.
Pan-Frying method that could prevent tea from getting smoky flavor
During my recent trips to Yunnan tea gardens, I notice more and more people started using a new kind of pan-frying method. They build a wall to segregate wood fire area from the frying pan stove. The smoke is released to the other side of the wall during tea processing.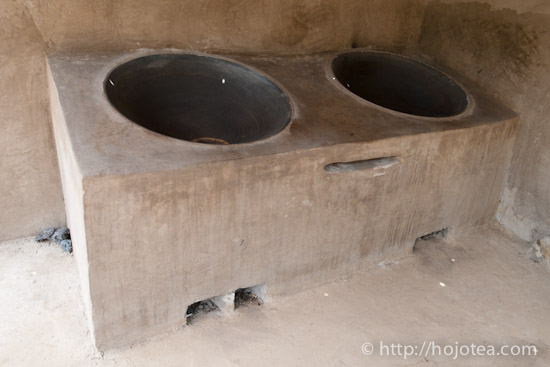 The holes underneath the stove allow air ventilation into the wood fire area(built behind the wall).
Drum-Frying Machine
Some small factories, or farmers who live near urban area often use drum-frying machine when processing raw pu-erh tea. Some people say, the quality of tea processed in a machine will not be very good since it is not processed manually. On the contrary, it is quite the opposite. When using machine to process tea, they can precisely control the temperature and retention time, therefore they can produce tea with pretty good quality.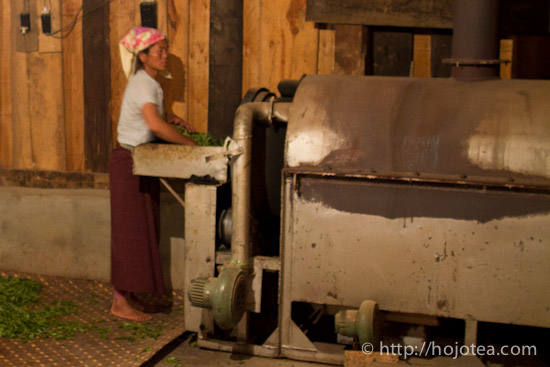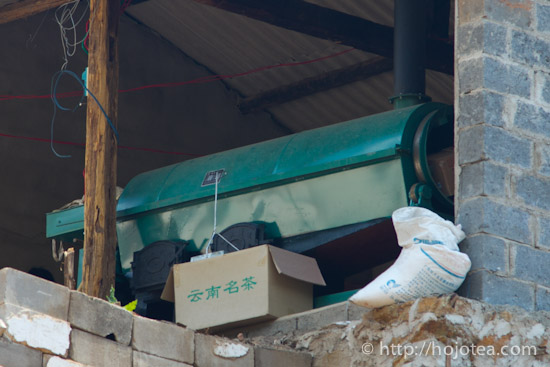 Ironically, the place where we can find very high quality material is located deep inside the mountains, but most of the tea farmers there are still using the traditional pan-frying method.
In my coming tea hunting trip, I will need to work hard to look for pu-erh tea that is made of very good quality material( but not smoky! )
Related Articles
How to get the latest update on HOJO Tea?
1. Follow Twitter, 2. Click "Like" on Facebook, and 3. Subscribe in newsletter. You can have the latest tea news from HOJO Tea.
Subscribe the Newsletter to enjoy the privileges

You may receive a free sample upon purchase, or you may have the priority to purchase special products. So please remember to subscribe our newsletter as well as the social network.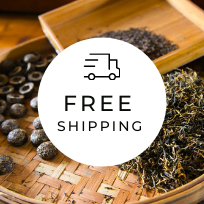 HOJO TEA Online Shop NEWS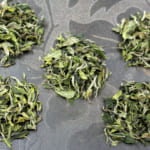 The ancient white tea is a very popular tea in our store. We produced this tea in spring. Following production, it was stored in an oxygen-free environment for several months to further enhance its flavor, achieving the expected maturation. The production of ancient tree white tea is limited in quantity per day, resulting in small …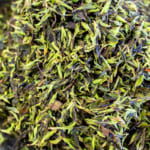 We have released the 2023 harvest of wild white tea from the Da Xue Shan. Fresh Green Colour of Leaves Achieved Through Custom Production Da Xue Shan's wild white tea is an incredibly rare type of white tea, and it's made from a unique plant called Camellia Taliensis that grows in the wild in the …
Shop Info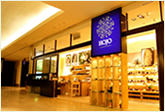 Address:Lot No. T-215, 3rd Floor, The Gardens Mall, Mid Valley City, Lingkaran Syed Putra, 59200 Kuala Lumpur
Tel: +603-2287-4537
Business Hour: 10am to 10pm
Category
Profile

AKIRA HOJO

I invite you to experience my tea selections.I was born in Nagano, Japan. In university, I studied agricultural chemistry, and I have the master degree in food science. I worked in Japanese food industry for 10 years. I involved in R&D, QC and QA. As a factory manager, I implemented ISO9000 series and managed the factory.
Media Release


We posted the article on "The Art of Tea Magazine No.9, the magazine is published in Taiwan. We featured some scientific view about the tetsubin

The Malaysian National Newspaper, New Straits Times featured HOJO Tea on 17-Oct-2007.