The reason why Darjeeling first flush is "Green".
[2013.04.29] Posted By Akira Hojo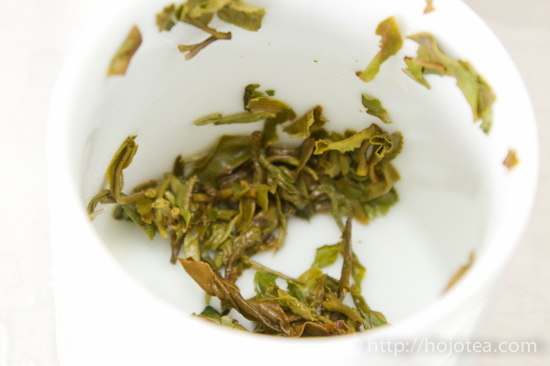 The tealeaves of Darjeeling 1st flush is green in colour, despite this tea is categorized as black tea. I would like to explain the reason why.
Only the first flush has green leaves
There are 3 types tea produced in Darjeeling (India): Spring tea, the1st flush (March-April), 2nd flush ( May-June) and Autumnal tea (September – November). The color of 2nd flush Darjeeling and Autumnal Darjeeling are in orange-brown. These two types of tea literally look like a "black tea". On the contrary, the leaves' colour of Darjeeling 1st flush is green and its liquor colour is creamy yellow.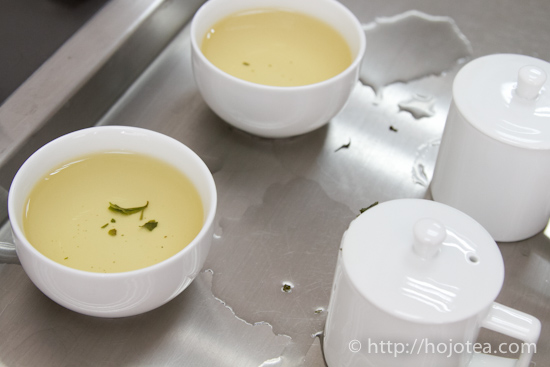 They made Darjeeling 1st flush GREEN in purpose
Some people say that Darjeeling 1st flush is green because it has less polyphenol and this is the character of a spring tea. However, this saying is not true. In China, there are many premium quality black tea which are plucked and produced throughout March and April. They are all in orange-brown color and rich in theaflavin. When tea is rich in theaflavin, we could tell by observing a golden ring formed inside the cup when tea is served.
So, why is Darjeeling 1st flush GREEN? We asked this question to the tea manufacturers, and they confirmed that they intentionally wanted to make Darjeeling 1st flush look green. Actually, Darjeeling 1st flush tea could be made into orange-brown colour if the manufacturers allow the tea to have sufficient fermentation. They purposely reduce its fermentation level so that it looks green and fresh. Darjeeling Autumnal tea could also be processed into green colour if the manufacturer wanted to do so.
Once upon a time, Darjeeling 1st flush was not green
According to the manufacturer, in the old days the color of first flush tea used to be similar to autumnal tea. It became so green nowadays due to market demand. The main buyers of Darjeeling 1st flush are from Japan, demands in Japan market played an important role in influencing the fermentation level of Darjeeling 1st flush. For now, all the tea gardens in Darjeeling process lighter fermented 1st flush tea, that is why all the 1st flush tea we see in market are in green colour.
The reason why the 1st flush tea is green
There is a little secret in the process of making a Darjeeling 1st flush.
Due to its long withering period, the moisture level in tealeaves reduced and resulted a slow fermentation to take place
The withering process is the key process for making a black tea. Withering is a process where tealeaves were spread evenly over a perforated plate or bamboo tray and gradually reduced its moisture content .The objective of withering it to enable rolling process to be carried on easily. With lower moisture content inside the leaf, its texture gets softer and more elastic. Once the leaves have less moisture content, it takes a longer time for the leaves to ferment (after the rolling process) as it became harder to activate the oxidation of enzyme inside the tealeaves. It is just like a dehydrated apple can hardly change into brown colour, even if it is cut in half and exposed to the air.
less fermentation
The fermentation process is carried out after rolling process. Tealeaves were spread over a stainless steel tray and left alone for some time. Usually the time spent for the fermentation of 1st flush is shorter than autumnal tea. The 1st flush leaves hardly turn brown due to lower moisture level, even if its fermentation time was as long as autumnal tea's.
Darjeeling 1st flush withering process is same as Oolong tea processing
The primary objective of withering is to naturally activate the oxidation of enzymes by using dehydration method. As a result, tealeaves produced from withering give a very sweet floral flavor. In fact, Oolong tea was made in the same way. We met a few tea estate managers in Darjeeling who dare to say that Darjeeling first flush is a type of "Oolong tea". In any case, Darjeeling 1st flush is a semi-fermented tea. It is too green to be listed as black tea. The major difference between Darjeeling 1st flush and Oolong tea is the sequence of its process.
Oolong Tea Process
Withering(Fermentation) → Heating(Inactivate Enzyme)  → Rolling→ Drying
Black Tea Process
Withering → Rolling → Fermentation → Heating(Inactivate Enzyme)→ Drying
For making Oolong tea, the tealeaves were heated right after the withering process in order to stop the enzymatic activity. As for the Darjeeling 1st flush, tealeaves were not heated after withering process. In stead, rolling process will be carried out and subsequently tealeaves were fermented on the tray by themselves.
Taiwan Oolong tea which gives very refreshing 'green tea'-like flavor are produced from skill laboured withering process. As soon as withered tealeaves start producing a desired flavor, then they will be heated immediately to stop further oxidation of the enzyme. As for Darjeeling 1st flush, tealeaves are not heated after the withering process. It subsequently rolled and fermented right after the withering process. Due to the fermentation process after withering and rolling, its flavor becomes a little thicker and smoother (more matured).
The future development of Darjeeling 1st flush
The identical floral flavor of Dajeeling 1st flush was produced during withering process. The dehydration of leaves triggers the oxidation of enzyme. What if tealeaves were heated right away to stop the enzymatic oxidation? This perhaps could create a hybrid tea that has a mixed character between a green tea and Oolong. I am not hoping for such hybrid tea to be made from Darjeeling. But there is a chance that such tea will be produced in future.
Related Articles
How to get the latest update on HOJO Tea?
1. Follow Twitter, 2. Click "Like" on Facebook, and 3. Subscribe in newsletter. You can have the latest tea news from HOJO Tea.
Subscribe the Newsletter to enjoy the privileges

You may receive a free sample upon purchase, or you may have the priority to purchase special products. So please remember to subscribe our newsletter as well as the social network.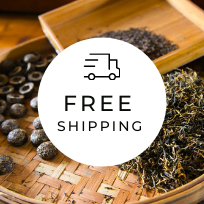 HOJO TEA Online Shop NEWS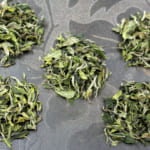 The ancient white tea is a very popular tea in our store. We produced this tea in spring. Following production, it was stored in an oxygen-free environment for several months to further enhance its flavor, achieving the expected maturation. The production of ancient tree white tea is limited in quantity per day, resulting in small …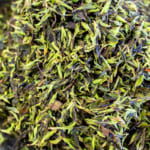 We have released the 2023 harvest of wild white tea from the Da Xue Shan. Fresh Green Colour of Leaves Achieved Through Custom Production Da Xue Shan's wild white tea is an incredibly rare type of white tea, and it's made from a unique plant called Camellia Taliensis that grows in the wild in the …
Shop Info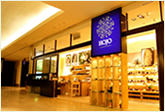 Address:Lot No. T-215, 3rd Floor, The Gardens Mall, Mid Valley City, Lingkaran Syed Putra, 59200 Kuala Lumpur
Tel: +603-2287-4537
Business Hour: 10am to 10pm
Category
Profile

AKIRA HOJO

I invite you to experience my tea selections.I was born in Nagano, Japan. In university, I studied agricultural chemistry, and I have the master degree in food science. I worked in Japanese food industry for 10 years. I involved in R&D, QC and QA. As a factory manager, I implemented ISO9000 series and managed the factory.
Media Release


We posted the article on "The Art of Tea Magazine No.9, the magazine is published in Taiwan. We featured some scientific view about the tetsubin

The Malaysian National Newspaper, New Straits Times featured HOJO Tea on 17-Oct-2007.